Sri Lanka's glowing reputation as an upmarket holiday destination has much to do with the gorgeous selection of beach villas that stud its coastline. The hub for Sri Lanka beach villas is undoubtedly the Galle Coast, which has become a magnet for wealthy visitors, but you can also find great beach villas on either side of the Galle Coast, to the south and west. Most beach villas in Sri Lanka come with an attentive but discreet staff including housekeeper, cook and gardener. Red Dot strives to include good-value beach villas in our constantly-evolving selection.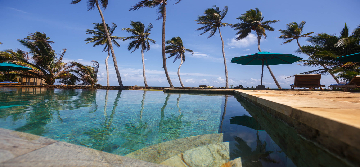 Ambalama
Dalawella, Galle Coast
Ambalama is a stylish beach villa set on a pristine beach at Dalawella, 7km south of Galle. It has four suites situated either side of an infinity pool with uninterrupted views of the Indian Ocean. Enter the house across stepping-stones set over a pool which lead all the way into the cool white interior of the villa.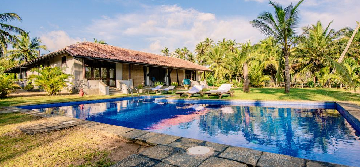 Ardeen Villa
Ranna, South Coast
Ardeen Villa is a modern villa in an escapist setting by the wide open stretches of Ranna beach, east of Tangalle and is an attractive getaway for family or friends seeking a simple beach life.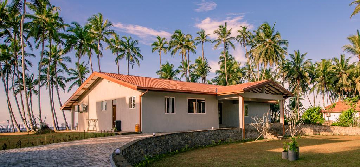 Arhimser Villa
Ranna, South Coast
Arhimser Villa is a four-bedroom beach villa in Ranna. Perfect for families and friends travelling together, this villa can be booked either by room or even in its entirety.
Claughton House
Tangalle, South Coast
Claughton House is a five-bedroom beach villa perched on a hill top looking down on to the spectacular Tangalle Bay in the deep south. The villa, designed by Georffrey Bawa, has access to its own beach and is set on eight-acres of tropical gardens scattered with coconut palms.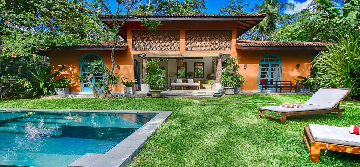 Cove House
Dickwella, South Coast
Cove House is a refurbished, old southern home which has been brought back to life by its current American owner. The three-bedroom villa and the gardens spread across two acres and have spectacular sea views from a hillock just above the village.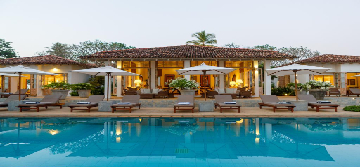 Habaraduwa House
Habaraduwa, Galle Coast
Habaraduwa House is a luxurious four-bedroom beach villa fronting a pristine stretch of beach in the village of Habaraduwa on the Galle Coast. The same management as the much-acclaimed Kahanda Kanda promises good things in this spacious villa.