Snapshot
Adventurous Sri Lanka is a much-loved sports and activity holiday. Water-sport options such as kite-surfing, surfing, snorkelling and sailing are central to a holiday that spends much of its time on the coast but many other pleasures await. In this action-packed trip you can trek, cycle, camp, climb and raft – because life is more than a beach. Trek through some of Sri Lanka's finest mountain landscapes; raft down the white-water rapids of the Kelani River, and take a hot-air balloon trip in the Cultural Triangle. This itinerary is bursting with energy and is ideal for active young travellers or families with older children. As always, Red Dot is happy to tinker with this tour to suit your needs
Our Opinion
This action-packed holiday will awaken the enthusiasm of the most boredom-prone traveller and provide bags of exercise into the bargain
Don't Miss
Strip down for an abundance of water-sports on some of Sri Lanka's finest beaches
Sail into the deep seas in search of whales and dolphins
Soar above the dry-zone plains in a hot air balloon at dawn
Go mountain biking in the hills
Trek through stunning hill country landscapes
Camp in Kitulgala and go white-water rafting down the Kelani River
PACKAGE INCLUDES
Accommodation in a shared double / twin room
Chauffeur-guide and vehicle for the duration of the tour (including leisure days)
Both airport transfers
Expert advice and support prior to and during the tour

TERMS & CONDITIONS
Price shown is a starting price and is subject to change, depending on travel dates / the number of people travelling etc.
Price shown is based on two people sharing a double / twin room
See our Booking Conditions for more details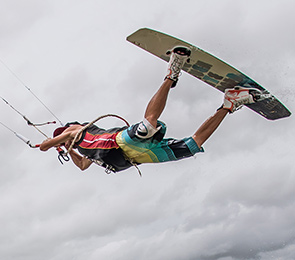 Day 1 & 2
Kalpitiya, North-West Coast
Kalpitiya lays claim to being the kite-surfing centre of the world. This narrow sandbar on Sri Lanka's north-east coast has consistently breezy conditions for the bulk of the year, just perfect for a downwinder or two. Discover a laid-back spot bursting with soul. Beginners or novices can kite-surf on Puttalam Lagoon or on the ocean, guided by experts. We have a lot to cram into this activity holiday so we propose a three-hour journey to Kalpitiya after your arrival at the airport, but we can slow down your itinerary on request.
Accommodation: Khomba House
Recommended Activities: Kitesurfing in Sri Lanka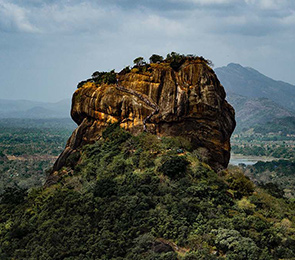 Day 3 & 4
Sigiriya, Cultural Triangle
Head inland to the Cultural Triangle, home to many of the island's most spectacular ancient ruins. Spend the afternoon relaxing at your hotel before heading out in the cooler evening air to climb the majestic Sigiriya Rock Fortress, one of the most dramatic, inspiring and beautiful historical locations in the world. The following day, work off that excess energy with an exploration of Ritigala ancient monastery, or a game drive in search of elephants at Minneriya.
Accommodation: Aliya Resort and Spa
Recommended Activities: Minneriya National Park , Sigiriya Rock Fortress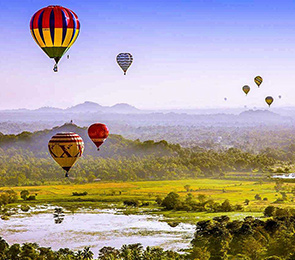 Day 5
Knuckles, Kandy
Rise in the early hours and begin the day with a breathtaking hot air balloon ride at dawn. As the sun begins to stain the sky red and gold, soar above the arid plains and jungle landscape and gaze in wonder at the ruins which still jut proudly up from the earth. Upon landing enjoy a complimentary glass of champagne. The rest of the morning is spent transferring to a remote village in the Knuckles Mountain Range So named because of its resemblance to a set of knuckles on a clenched fist, the Knuckles Conservation Range consists of five mountain peaks and several other smaller peaks, with the highest point about 6,000 ft above sea level.
Accommodation: Sir John's Bungalow
Recommended Activities: Knuckles Mountain Range , Sri Lanka Hot Air Ballooning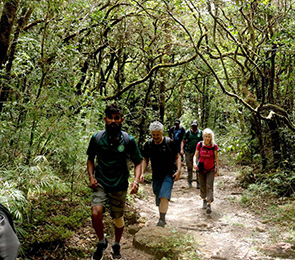 Day 6 & 7
Knuckles, Kandy
The next two days will be spent trekking in the Knuckles alongside terraced paddy fields and tea plantations, rivers and waterfalls, through dense forests and small rural village communities – all of which boast beautiful animal and plant life. The backdrop to this remote wilderness could not be more picturesque: panoramic views of misty mountains and spectacular valleys, ancient rock formations, lush forests and gurgling streams. Knuckles is an unmissable, unique blend of nature, culture and adventure.
Accommodation: Sir John's Bungalow
Recommended Activities: Hike in the Knuckles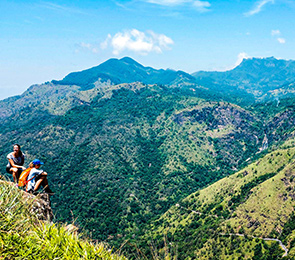 Day 8 & 9
Ella, Hill Country
A journey to the hill country – and its liveliest and youngest town – Ella. From here you can enjoy an evening trek to Little Adams Peak to enjoy a beautiful sunset. Hike up to Nine Arches Bridge or to Ella Rock, a two-hour mildly strenuous climb with panoramic views at the summit. Go on a mountain bike trip to Ella Waterfall and ride through rural lanes and tea plantations. Tread in the footsteps of Sir Thomas Lipton, an early developer of Sri Lanka's tea industry with a walk up to his favourite viewpoint at Lipton's Seat.
Accommodation: 98 Acres Resort
Recommended Activities: Little Adam's Peak , Lipton's Seat , Sri Lanka Waterfalls , Walking in Ella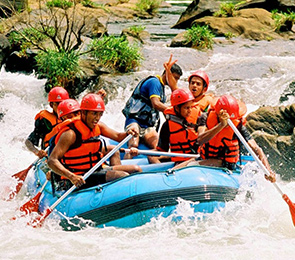 Day 10 & 11
Kitulgala, Sinharaja & Kitulgala
A satisfying morning winding westwards through wonderful hill country scenery ends by lunchtime at Kitulgala, the centre of Sri Lanka's river sports. Kitulgala Forest Reserve owes its popularity to the Kelani River, which offers exciting Grade 3 rapids for rafting – as well as rapids suitable for beginners. Rise early to the sound of bird call and the gushing river before indulging in some of the exhilarating activities on offer here, which include kayaking, rafting, canyoning, mountain biking, abseiling and hiking. We propose camping here, but a selection of the best eco-retreats is also available.
Accommodation: Borderlands
Recommended Activities: White-Water Rafting and Canoeing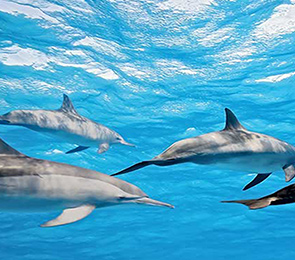 Day 12, 13 & 14
Mirissa, South Coast
We finish how we started – with some blissful beach days. Sri Lanka's south coast offers plenty of water-based activities. Learn to surf at Weligama, or take a boat into the deep seas in search of whales and dolphins. Mirissa Water Sports offers water-sports activities including river cruising, sailing, fishing, sea kayaking and snorkelling. All-day catamaran cruises are also available from our reputable suppliers.
Accommodation: Villa Oceane
Recommended Activities: 6 Best Water-Sport Activities in Sri Lanka , Take a Sri Lanka surfing lesson , Whale Watching in Mirissa