Snapshot
Red Dot's Explore Kerala itinerary takes you on the classic route through Kerala's diverse landscapes, taking in the cultural delights of Fort Kochi, a journey on the serene backwaters, the jungles of Periyar, stunning mountain tea plantations of Munnar and, finally, the sandy beaches of the south-west coast. We will discuss your accommodation choices with you to ensure that your preferences are catered for and, as ever, Red Dot's commitment to tailor-made holidays means we can adjust to any itinerary requests you wish to make.
Our Opinion
This classic tour of Kerala ticks all the boxes for the first-time visitor – and the ability to adjust the accommodation as you wish makes it even more special
Don't Miss
Fort Kochi's rich cultural and colonial heritage
Nature walk, spice plantations, bamboo rafting, cultural shows at Thekkady
Meander along the tranquil backwaters in a traditional houseboat
Sumptuous Keralan Cuisine
Munnar's beautiful Mountains, Tea Museum, Soft adventures, Plantation Walks, Tea Tasting
Sun-kissed beaches
Experience a Village Country Boat cruise
Traditional Kathakali dance show and make-up experience
PACKAGE INCLUDES
Accommodation in a shared double / twin room
Chauffeur-guide and vehicle for the duration of the tour (including leisure days)
Both airport transfers
Expert advice and support prior to and during the tour

TERMS & CONDITIONS
Price shown is a starting price and is subject to change, depending on travel dates / the number of people travelling etc.
Price shown is based on two people sharing a double / twin room
See our Booking Conditions for more details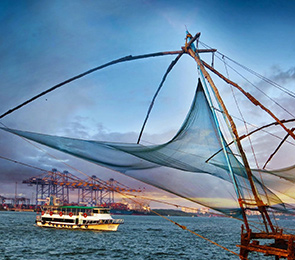 Day 1 & 2
Kochi
Upon arriving at Kochi International Airport, transfer to Fort Kochi. The Fort area retains an old colonial charm, possessing tree-lined streets, an expansive parade ground and some fine buildings The city of Kochi is on a series of islands, but it is Fort Kochi's cultural and architectural heritage that will most attract you. Visit the Mattancherry Palace, once occupied by the local Verma Kings and now a museum. Explore the Jewish Town with its narrow cobblestone walkways where wayside shops overflow with antiques, silk shawls and kurtas. The beautiful 16C synagogue with intricate chandeliers and porcelain tiled floors stands in a corner of Jewish Town. Several fine churches are also well worth a visit. At Vasco da Gama square, a narrow promenade parallels the beach where huge Chinese fishing nets are tended by fisherman. We can also arrange cooking demonstrations and dance displays.
Accommodation: Forte Kochi
Recommended Activities: Mattancherry Palace, Jewish Town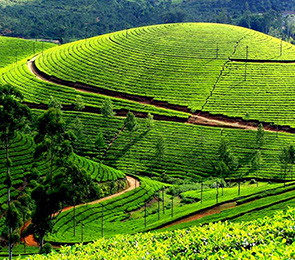 Day 3 & 4
Munnar, Western Ghats
It is not far short of five hours to drive from Kochi to the tea-laden hills of Munnar, but lovers of mountain scenery will find the trip into the lush green forests of the Western Ghats thoroughly worthwhile. Explore the hill station of Munnar, once the summer resort of the British during the colonial period. Sprawling tea plantations, mountain peaks (Anamudi, at 2,695m is the highest) and gushing waterfalls makes this an inspiring holiday destination. The region is perfect for trekking, mountain climbing, birdwatching, boating, trout fishing, and cycling. Chinnar Wildlife Sanctuary and Eravikulam National Park which is home to the elusive Nilgiri Tahr - a rare species of mountain goat -- is worth a visit for its mountain views. Don't forget to pack a sweater or jacket – especially in Kerala's winter months when daytime temperatures in the mountains can fall to between 10-15C and, at night, even lower. As an option, if you find bird watching rewarding, you may consider spending an extra night at a home stay or a hotel close to the renowned Dr Salim Ali bird sanctuary (Thattekad bird sanctuary).
Accommodation: Spice Tree
Recommended Activities: Trekking, birdwatching, boating, cycling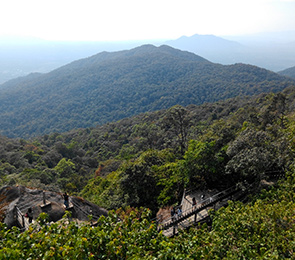 Day 5 & 6
Periyar National Park, Thekkady
Today you travel to the Cardoman Hills - the spice-growing foothills of the Western Ghats – and the picturesque Periyar National Park. The forest department have successfully co-opted the support of the indigenous Mannan community who now conserve the reserve in exchange for money from eco-tourism. This lakeside wildlife sanctuary is best explored by boat or on foot with a trekking guide. We can organise a spice plantation tour, jungle nature walk, boat ride and optional full-day bamboo rafting.
Accommodation: Spice Village
Recommended Activities: Spice plantation tour, nature walk, boating, bamboo rafting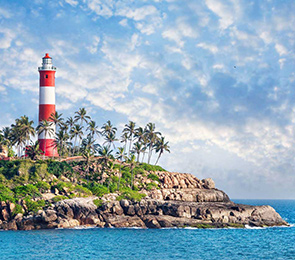 Day 7
Aleppey, Backwaters
Journey to Alappuzha (Alleppey) to board a traditional Kettuvallum houseboat (reconverted rice barges) at noon for an overnight water journey through Kuttanad country, a land of shimmering waterways, dense tropical greenery and age-old village livelihoods so vividly described in Arundhati Roy's remarkable novel `The God of Small Things'. Your fully-staffed houseboat will chug slowly through this network of lagoons, lakes, canals and 41 rivers. More than 900 kms of this massive water body can be explored by boat. Watch lush green paddy fields and coconut groves, tranquil waters momentarily disturbed by cormorants and brahminy kites diving down in search of their catch, fisherman tending to their Chinese nets, and villages passing by in canoes filled with coir and vegetables. You can also experience a Country Boat cruise and experience how the villagers travel around on the water. By late afternoon, your houseboat is anchored and you can dine under a starlit sky with the sound of crickets in the background.
Accommodation: Houseboat
Recommended Activities: Backwater journey, Country Boat cruise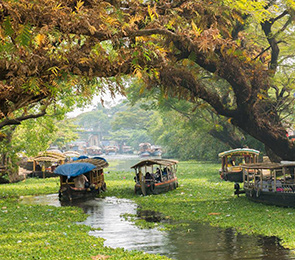 Day 8 & 9
Lake Vembanad, south-west coast
Spend two nights in one of the excellent resorts on the backwaters. This region is known as the rice bowl of Kerala and is one of the few places in the world where farming is done below sea level. Alappuzha, surrounded by a large network of inter-connecting canals, has a rich history, having been an important trading port for centuries and is famous for its coir industry, manufacturing of boats, and the traditional snake boat races which takes place annually in August and September.
Accommodation: Purity at Lake Vembanad
Recommended Activities: Evening canoe ride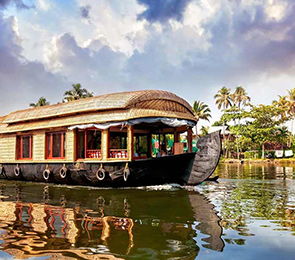 Day 10, 11, 12 & 13
Kovalam, south-west coast
Time to choose your beach hotel. Those wishing to reduce travel times will opt for Mararikulam Beach, which is only 40 minutes or so from the Backwaters and two hours from Kochi. A longer journey, about five hours, takes you to the south west coastal town of Kovalam. Relax for four nights on the sun-kissed beaches of Kerala's popular south-west coast. There are many day trips you can take from your chosen resort – Kovalam, for instance, is convenient for Trivandrum, Kerala's capital city. When your beach stay is over, transfer to Trivandrum or Kochi Airport to begin your journey home.
Accommodation: Turtle on the Beach
Recommended Activities: Trivandrum day trip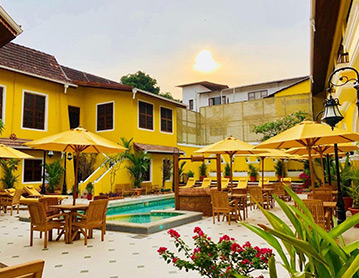 Forte Kochi
Kochi
Forte Kochi is a well-appointed heritage hotel with more than 200 years of history and offering 5-star accommodation in a desirous position in Fort Kochi.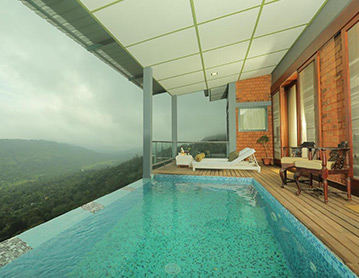 Spice Tree
Munnar
A luxury chalet-style resort with an outdoor pool and excellent views of the mountain ranges of Kanan Devan and Bison Valley Hills.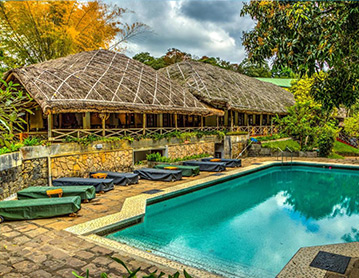 Spice Village
Thekkady
Spice Village is set in an aromatic spice garden in the cool highlands of Periyar. This luxurious eco resort is inspired by the dwellings of the native Manan tribe and exudes the spirit of natural life.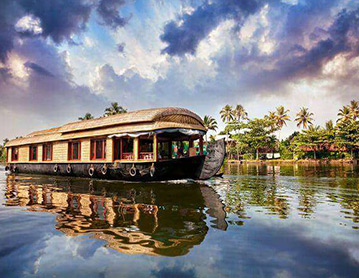 Houseboat
Alleppey
Take a luxury houseboat along Kerala's famed waterways – a heaven of interlinking canals, paddy fields and coconut trees.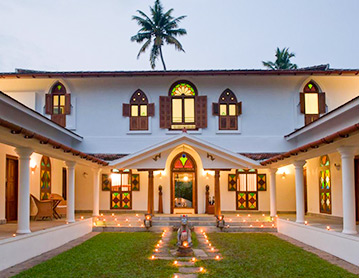 Purity at Lake Vembanad
Alleppey
Purity is a magnificent lakefront villa hotel in an outstanding location, overlooking the peaceful waters of lake Vembanad at its widest point.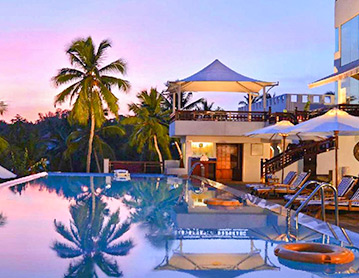 Turtle on the Beach
Kovalam
An uplifting hotel with boutique and artistic flourishes with views of the sea only five minutes away. It is about 15kms from Trivandrum Airport.
Following are recommended optional activities