Snapshot
Travellers flock to Rajasthan in more numbers than any other part of India. Its fantastical palaces and huge forts stand as living monuments in an awe-inspiring desert landscape. The vivid colours of Rajasthan seen in cultural festivals, bright tribal dress and appealing handicrafts also leave a permanent impression. In contrast to our Classic Rajasthan itinerary, where you get to go camel trekking in the Thar Desert and visit the desert town of Jodhpur, it remains further east and offers a chance to go tiger spotting in Ranthambhore national park, visit one of the finest river sanctuaries in India and discover the charming towns of Bundi and Shahpura en route to Udaipur, reputedly one of the world's most romantic cities. As ever, our commitment to tailor-made holidays means we can adjust this itinerary to please. Underpinning the first half of this relatively easy-going tour, of course, are the three prongs of the Golden Triangle: the capital, Delhi, the pink city of Jaipur and, in Agra, the incomparable splendour of the Taj Mahal.
Our Opinion
Red Dot's Green Rajasthanis a special 12-day trip designed for those who prefer to forego the most arid parts of the state.
Don't Miss
A full-moon visit to the Taj Mahal
Historic forts clinging to rocky outcrops
Beautiful royal palaces
Tiger spotting at Ranthambhore national park
The abandoned city of FatehpurSikri
A boat ride by the beautiful lakeside city of Udaipur
A greener, more tranquil Rajasthan at Shahpura Bagh and Bundi
Crocodiles on a boat trip on the delightful River Chambal.
Shopping for bargains in Rajasthan's colourful bazaars
PACKAGE INCLUDES
Accommodation in a shared double / twin room
Chauffeur-guide and vehicle for the duration of the tour (including leisure days)
Both airport transfers
Expert advice and support prior to and during the tour
TERMS & CONDITIONS
Price shown is a starting price and is subject to change, depending on travel dates / the number of people travelling etc.
Price shown is based on two people sharing a double / twin room
See our Booking Conditions for more details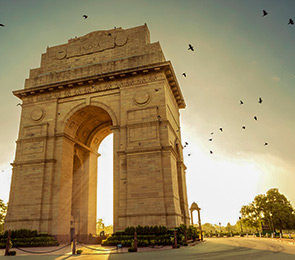 Day 1 & 2
Delhi
India's capital seeks a stately atmosphere suitable to the seat of government and despite suffering from the usual melee it occasionally achieves it. These days a new metro allows you to escape some of the traffic and knit together its must-see sites. There is much worth your attention, led by Humayan's Tomb, the tomb of a Mughal empire and impressive enough for Barack Obama to visit; Gandhi Smriti, a simple memorial to Mahatma Gandhi where the room and possessions he was using when he was assassinated have been caringly preserved; and much more. You can find time, too, for Qutub Minar, one of Delhi's most stunning monuments, stretching back to 1193; the stunning Akshardham Temple, built entirely of Rajasthani pink sandstone and Italian Carrara marble; and the modern Lotus Temple, regarded by some as the epitome of cool. Also in Delhi, you could visit a Sound & Light Show at Red Fort.
Accommodation: Vivanta Dwarka / Radisson Blu Dwarka
Recommended Activities: Humayan's Tomb, Gandhi Smriti, Qutub Minar, Akshardham Temple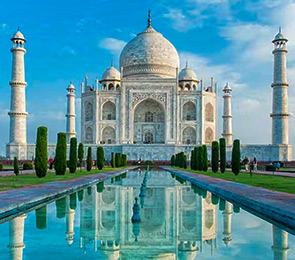 Day 3
Agra
Time to catch the early-morning train to Agra, where the Taj Mahal – the greatest monument to romanticism the world has ever seen – awaits. We recommend a rail transfer, but you can journey by car if you wish. It is particularly moving to see the Taj Mahal at night on one of the Full Moon days (even if five are claimed per month!). Numbers are limited at this time. Such a glorious sight should not be the subject of a rushed day trip, especially when there are other attractions around Agra so we recommend that you stay the night nearby. Mehtab Bagh lies north of the Taj Mahal complex and the Agra Fort on the opposite side of the Yamuna River, in the flood plain. The garden complex is perfectly aligned with the Taj Mahal on the opposite bank. If you missed a Son-et-Lumiere show in Delhi, you could experience one at Agra Fort, or take in a display of Kalakriti dance.
Accommodation: Hotel Grand Imperial
Recommended Activities: Taj Mahal, Agra Fort Son-et-Lumiere show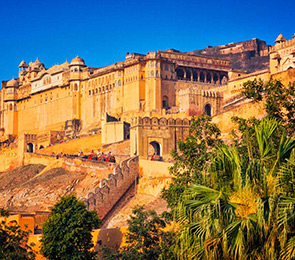 Day 4
Jaipur
There is much to see this morning on the four-hour journey west from Agra to the Pink City of Jaipur – the third leg of the Golden Triangle. You could break the journey with excursions to Akbar's Mausoleum, a sandstone and marble tomb commemorating the most powerful Mughal ruler of all, which lies 10 kms north-west of Agra. And, 40 kms west of Agra, Fatehpur Sikri, a deserted fortified city, built by Mughal emperor Akbar in the 16C but abandoned soon after when local wells ran dry, remains wonderfully preserved. See stunning palaces and mosques as you journey back in time at this remarkable UNESCO World Heritage Site. Arrive in Jaipur in time for a leisurely evening meal.
Accommodation: Shapura House / Alsisar Haveli
Recommended Activities: Akbar's Mausoleum, Fatehpur Sikri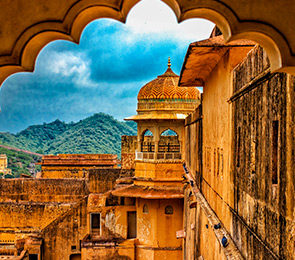 Day 5
Jaipur
The Pink City of Jaipur (actually closer to salmon) is Rajasthan's most tourist-orientated city, with good shopping opportunities and a city which never needs much excuse to hold a festival. A tough choice awaits you about what you wish to see on your day in the city. The City Palace is open to the public as the Sawai Man Singh Museum. Check out the armoury, with its large collection of mace, daggers, shields and other implements of war. The textile collection shows off the royal wardrobe and is rather less threatening. The ponds of the Galta Monkey Palace, crammed into a ravine 3 kms east of Jaipur, provide home for thousands of macaque monkeys. Jantar Mantar Observatory, begun by Jai Singh in 1728, lies next to the Royal Palace and was added to the list of World Heritage Sites in 2010. Perhaps most recommended of all is Amber Fort, a wonderful honey-coloured fort on a rocky mountainside 12 kms north-east of Jaipur.
Accommodation: Shahpura House / Alsisar Haveli
Recommended Activities: Sawai Man Singh Museum, Galta Monkey Palace, Jantar Mantar Observatory.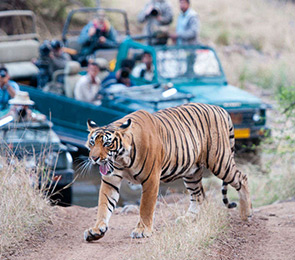 Day 6 and 7
Ranthambhore National Park
Today you travel south to Rajasthan's finest wildlife area: Ranthambhore National Park. Ranthambhore Fort, which hails back to the 10C, also stands on a ridge at the centre of this 1334 sq kms national park, which is the best place to see wild tigers in Rajasthan. Despite the efforts of Project Tiger, there are only around 30 tigers in the park, but other wildlife includes leopards, hyenas, jackals, sloth bear, deer, antelope and abundant birdlife. Traffic in the park is restricted to safari jeeps and open-top trucks (if the latter seem somewhat risky, there have been no reports of animal attacks). The park is open from October to June, closing during the rainy season. A limited number of Safaris are allowed and controlled by Government Forest Department so booking early is advisable.
Accommodation: Ranthambhore Heritage Haveli / Anuraga Palace
Recommended Activities: Wildlife Safari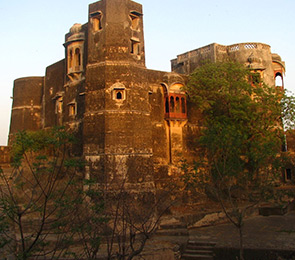 Day 8
Shahpura Bagh
A delightful day which many rushed-to-distraction Rajasthan travellers will never discover. If you wish, you can take a short detour en route to the peaceful town of Shahpura Bagh enjoys a wonderful setting in the plains surrounded by numerous man-made lakes. A short journey away, you will arrive in Bundi, a picturesque and relatively underrated town which still resonates of a bygone age. Visit Bundi's dilapidated palace which stands on a rock above the old town and houses the famous Bundi murals as well as thousands of bats which provide quite a sight as they stream out of the palace at dusk. Rudyard Kipling called the palace: "The work of goblin rather than men." Either stay in Bundi or drive on to your Chambal River accommodation shown on Day 9.
Accommodation: Havela Braj Heritage Hotel
Recommended Activities: Bundi Palace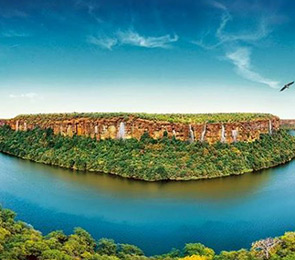 Day 9
Chambal River
The Chambal River hit the news back in 2013 when a 14-year-old Indian boy won a major wildlife photography award by taking a picture of a young fresh-water crocodile resting on a rock with hatchlings on its head. The National Chambal Sanctuary was set up in 1979 as a riverine sanctuary along an approximately 425 km length of the Chambal River and its ravines stretching over 2-6 km wide along the river. This is one of the cleanest rivers in India and as well as providing life for the threatened freshwater croc (or gharial),you can see turtles, dolphins and more than 300 birds. A rewarding place for a boat trip or a nature trek.
Accommodation: WelcomeHeritage Umed Bhawan Kota / Country Inn & Suites by Radisson
Recommended Activities: Boat trip on Chambal River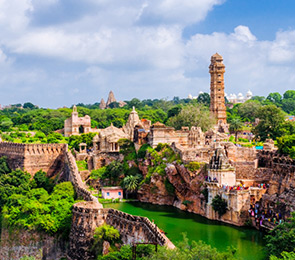 Day 10
Udaipur via Chittorgarh
The south-east of Rajasthan is often overlooked on a classic two-week itinerary which tends to head out to the western desert and Chittorgarh, like Bundi, suffers for it. This is despite the fact the town is blessed with the finest fort in Rajasthan, a UNESCO World heritage Site which spreads over 700 acres. A village occupies a small corner of the fort but the rest of the plateau belongs to the old palaces and temples. The fort fell under siege to Akmal in the mid 16C. Chittorgarh is a great stopping-off point en route from Chambal River to Udaipur. Arrive in Udaipur well in time for sunset in one of the world's most romantic cities.
Accommodation: Fateh Garh
Recommended Activities: Chittorgarh Fort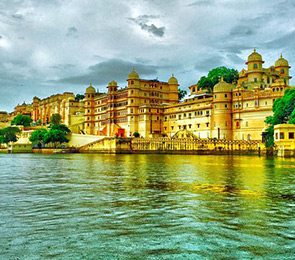 Day 11
Udaipur
Udaipur is a place for romance, with creamy-white palaces sitting alongside Lake Pichola, pretty old havelis (mansions) on winding streets, and exotic hotels. Udaipur is a beautiful spot to while away a day. The marble palaces, gentle gardens and placid waters transport make up an enchanting combination. Escape the tourist bustle and enjoy it at its best with a boat trip on the lake, a wander through the bazaar, indulge yourself in one of its finer hotels or restaurants, or by exploring the countryside beyond. You can even take a horse ride around the surrounding hills and lakes. The City Palace overlooks the lake; it took more than 400 years to be completed and is the largest palace in the State. Jagdish Temple will also appeal to many. Further on are the Sahelion ki Bari gardens, with its delicately carved kiosks and fountains.
Accommodation: Fateh Garh
Recommended Activities: City Palace, Jagdish Temple, Lake Pichola Sunset Cruise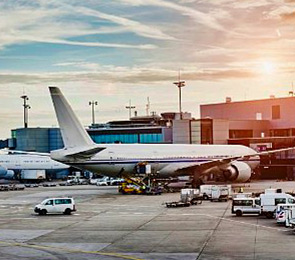 Day 12
Airport transfers
Udaipur airport links with Delhi and Mumbai and is a convenient way to end a remarkable holiday.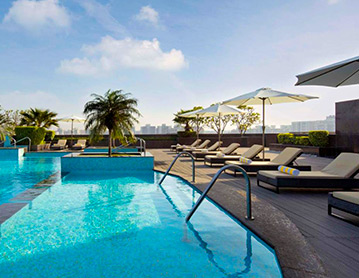 Radisson Blu Dwarka
Delhi, NCT
Situated in Dwarka, just a 20-minute drive from the commercial hub of New Delhi. Its multitude of facilities includes 3 dining options, a nightclub, on-site shopping mall with a supermarket, salon, fitness centre and indoor games facility.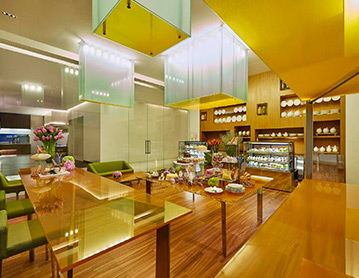 Vivanta Dwarka
Delhi, NCT
Vivanta New Delhi, Dwarka is one of the best hotels near New Delhi airport. It has all the facilities you would expect from an upmarket chain hotel, including two restaurants, a spa and a fitness centre. A 20-minute drive eastward leads you to the heart and soul of the city – Lutyens' New Delhi.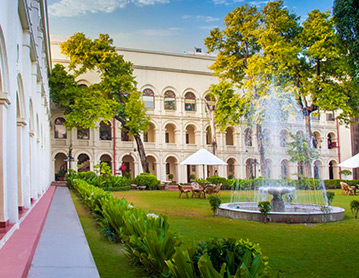 Hotel Grand Imperial
Agra, Uttar Pradesh
The Grand Imperial Hotel in Agra is a boutique heritage hotel and the only genuine century-old heritage hotel operating in Agra. Thirty luxury rooms with period furniture in the heart of Agra, plus pool, health club and spa.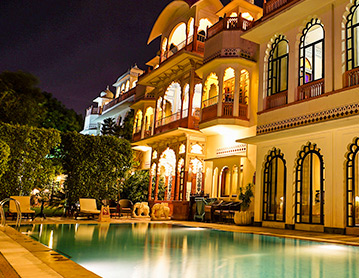 Hotel Shahpura House
Jaipur, Rajasthan
This well-maintained 64-room heritage hotel, in traditional Rajput style, benefits from a quiet residential area of Jaipur, and is owned by an aristocratic family who value its history. Large pool, spa and wellness centre and unashamedly decorative rooms and public areas.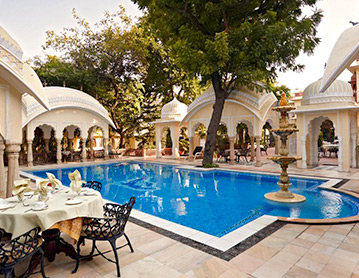 Alsisar Haveli
Jaipur, Rajasthan
A dramatic façade opens to a large and well-appointed courtyard with a central fountain that feels like an oasis of calm and old-world charm. This luxury hotel with 45 guest rooms, outdoor pool and spa, was once a vacation mansion for a rich Indian family.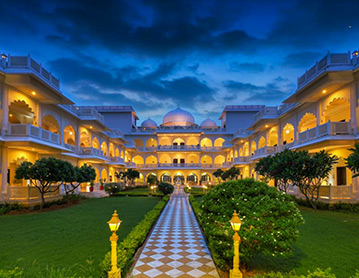 Anuraga Palace
Sawai Madhopur, Rajasthan
A base for tiger spotting in Ranthambore, but a treat in itself. Decorated in the pristine white architectural style of a traditional Rajasthani haveli. Spa, pool, restaurant, 50 rooms and suites.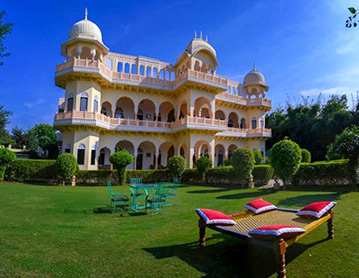 Ranthambhore Heritage Haveli
Ranthambhore, Rajasthan
Ranthambhore Heritage Haveli lies less than 1 km from Ranthambore National Park. It has an outdoor swimming pool, spa, plush lawns, bar, and restaurant with an American influence. Thirty rooms and 10 cottages have modern amenities and fine rooms.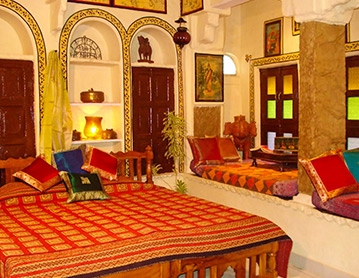 Havela Braj Heritage Hotel
Bundi, Rajasthan
Just 500 metres from the Taragarh Fort, Haveli Braj Bhushanjee Heritage Hotel was built 200 years ago and is a characterful and decorative havela with bold splashes of colour. Simple, but awash with the atmosphere of old India.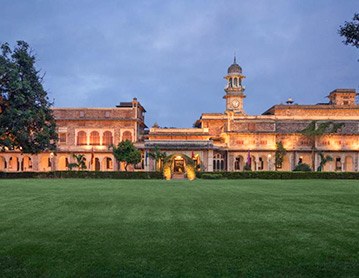 WelcomeHeritage Umed Bhawan Kota
Kota, Rajasthan
This pink sandstone palace, with 32 rooms, is an interesting blend of Victorian pomp and Mughal Rajput architecture. Outdoor pool, spa and billiards room. Well placed for visits to the City Palace and Rao Singh Museum.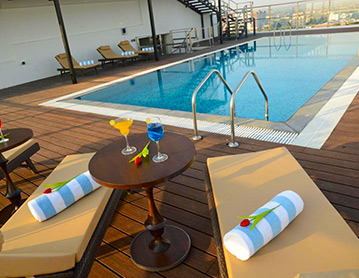 Country Inn & Suites by Radisson
Kota, Rajasthan
Country Inn and Suites offers Radisson reliability in one of Rajasthan's lesser-known settlements. A modern property in the heart of the city with a restaurant and outdoor pool. Convenient for Chambal River and Kishore Sagar Lake.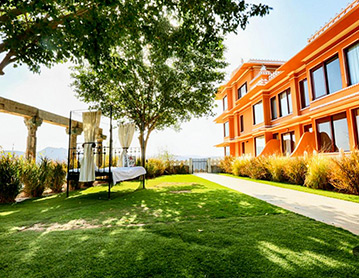 Fateh Garh
Udaipur, Rajasthan
This graceful property is a short drive out of the city and provides a tranquil retreat after a busy day. A quality hotel with large, characterful rooms, attractive pool, good quality spa and a stunning aspect in the hills.
Following are recommended optional activities