Snapshot
The Kerala & Maldives Combo brings together the best of two nations. First, fly to Kerala to experience South India's ancient cultural heritage, the spice-growing foothills of the Western Ghats, tranquil backwaters and rural village life, and the jungles of Periyar National Park. Then take a short flight to Maldives and enjoy a relaxing beach holiday of your choice by the shimmering waters of the Indian Ocean.
Our Opinion
Highlights of Kerala followed by a week's relaxation in The Maldives
Don't Miss
Fort Kochi's intriguing blend of Colonial and Indian cultural heritage
The bracing hills of Munnar
Thekkady's Spice Plantation where the air is filled with the scent of cinnamon and cloves
Bamboo Rafting on Lake Periyar
Meandering along the tranquil backwaters in a traditional houseboat
Sumptuous Keralan cuisine prepared with fresh aromatic spices
Sunkissed beaches and turquoise waters of the Maldives
Snorkeling, diving, sunset fishing and dolphin watching in the Maldives
PACKAGE INCLUDES
Accommodation in a shared double / twin room
Chauffeur-guide and vehicle for the duration of the tour (including leisure days)
Both airport transfers
Expert advice and support prior to and during the tour
TERMS & CONDITIONS
Price shown is a starting price and is subject to change, depending on travel dates / the number of people travelling etc.
Price shown is based on two people sharing a double / twin room
See our Booking Conditions for more details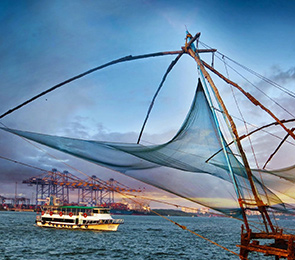 Day 1 & 2
Kochi
Depart from London and fly to Kochi via Colombo. You will be met on arrival by a Red Dot representative and transferred to Fort Kochi, an old trading post on the ancient Malabar Coast. The journey from the airport will take about one hour. Stroll down to the Vasco da Gama square, a narrow promenade that parallels the beach where huge Chinese fishing nets, there design dating back to the 14C, are tended by fisherman. Traditional Kathakali and Bharathanatyam dance performances are held at the Greenix Village down Kalvathy Road. Visit Mattancherry Palace, once occupied by Verma Kings and now a museum that tells of their lifestyle. Explore Jewish Town with its narrow, cobbled walkways where shops overflow with antiques and silk shawls; the 16C synagogue with intricate chandeliers and porcelain tiled floors; the Santa Cruz Basilica; the Dutch Palace and St. Francis Church.
Accommodation: Forte Kochi
Recommended Activities: Mattancherry Palace, Jewish Town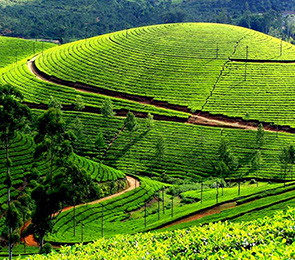 Day 3 & 4
Munnar
It is not far short of five hours to drive from Kochi to the tea-laden hills of Munnar, but lovers of mountain scenery will find the trip into the Western Ghats absorbing. Explore the hill station of Munnar, once the summer resort of the British during the colonial period. Sprawling tea plantations, mountain peaks (Anamudi, at 2,695m is the highest) and gushing waterfalls make this region perfect for trekking, mountain climbing, birdwatching, boating, trout fishing, and cycling. Chinnar Wildlife Sanctuary and Eravikulam National Park which is home to the elusive Nilgiri Tahr - a rare species of mountain goat -- is worth a visit for its mountain views. Don't forget to pack a sweater or jacket – especially in Kerala's winter months. As an option, you may consider a hotel close to the renowned Dr Salim Ali bird sanctuary (Thattekad bird sanctuary).
Accommodation: Spice Tree
Recommended Activities: Trekking, birdwatching, boating, cycling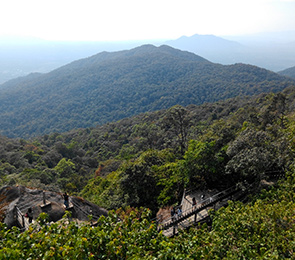 Day 5 & 6
Periyar National Park, Thekkady
Today you travel to the Cardoman Hills - the spice-growing foothills of the Western Ghats – and the picturesque Periyar National Park. The forest department have successfully co-opted the support of the indigenous Mannan community who now conserve the reserve in exchange for money from eco-tourism. This lakeside wildlife sanctuary is best explored by boat or on foot with a trekking guide. We can organise a spice plantation tour, jungle nature walk, boat ride and optional full-day bamboo rafting.
Accommodation: Spice Village
Recommended Activities: Spice plantation tour, nature walk, boating, bamboo rafting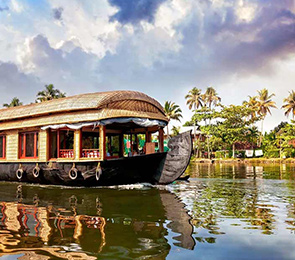 Day 7
Aleppey, Backwaters
Journey to Alappuzha (Alleppey) to board a traditional Kettuvallum houseboat (reconverted rice barges) at noon for an overnight water journey through Kuttanad country, a land of shimmering waterways, dense tropical greenery and age-old village livelihoods so vividly described in Arundhati Roy's remarkable novel `The God of Small Things'. Your fully-staffed houseboat will chug slowly through this network of lagoons, lakes, canals and 41 rivers. More than 900 kms of this massive water body can be explored by boat. Watch lush green paddy fields and coconut groves, tranquil waters momentarily disturbed by cormorants and brahminy kites diving down in search of their catch, fisherman tending to their Chinese nets, and villages passing by in canoes filled with coir and vegetables. By late afternoon, your houseboat is anchored and you can dine under a starlit sky with the sound of crickets in the background.
Accommodation: Houseboat
Recommended Activities: Backwater journey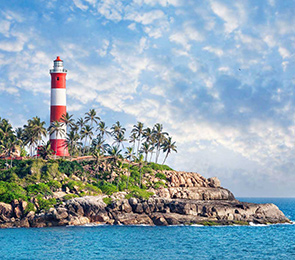 Day 8
Mararikulam
In early morning enjoy another short cruise and check-out from the houseboat after Breakfast. This is your final night's stay in Kerala. We propose spending it by Mararikulam Beach, which is only 40 minutes or so from the Backwaters and two hours from Kochi, so reducing travel times before your flight next day.
Accommodation: Marari Beach CGH Earth
Recommended Activities: Tennis, yoga, Ayurvedic massage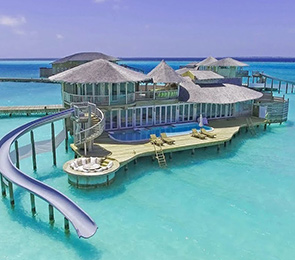 Day 9 - 14
Maldives
Take a daytime flight to the Maldives, the Indian Ocean's most sought-after beach escape, an archipelago of 1,190 coral islands south west of Sri Lanka. Its fascinating marine life gives it some of the best diving spots in the world. Spend your days relaxing on a hammock under the shade of a coconut tree or go scuba diving, surfing, snorkelling, and island hopping.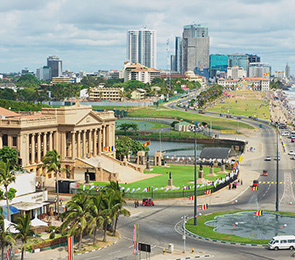 Day 15
Colombo
Depart Male Airport to Colombo to take the flight to London.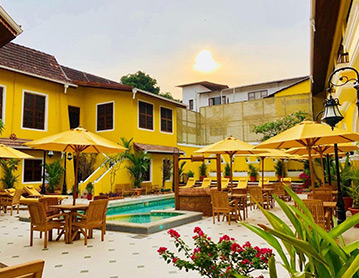 Forte Kochi
Kochi
Forte Kochi is a well-appointed heritage hotel with more than 200 years of history and offering 5-star accommodation in a desirous position in Fort Kochi.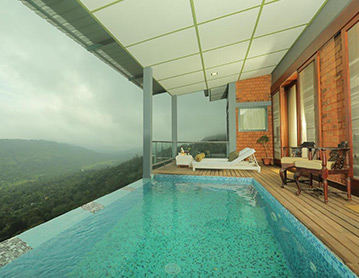 Spice Tree
Munnar
A luxury chalet-style resort with an outdoor pool and excellent views of the mountain ranges of Kanan Devan and Bison Valley Hills.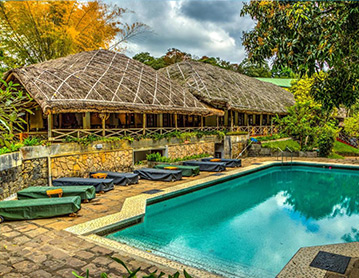 Spice Village
Thekkady
Spice Village is set in an aromatic spice garden in the cool highlands of Periyar. This luxurious eco resort is inspired by the dwellings of the native Manan tribe and exudes the spirit of natural life.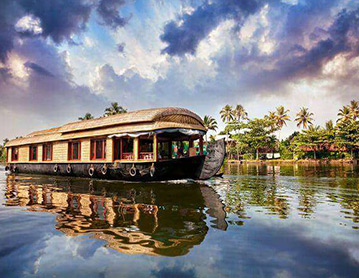 Houseboat (Deluxe or Premium)
Alappuzha
Your fully-staffed houseboat will chug slowly through the backwaters for a relaxing experience of Kerala's waterways. Choose from a deluxe or premium classification.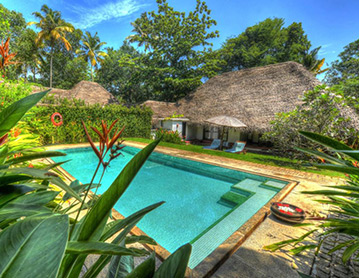 Marari Beach CGH Earth
Mararikulam
A seaside village in traditional style set on 30 acres with coconut groves, lily ponds, fruit trees and a large organic farm.
Following are recommended optional activities