Snapshot
Rajasthan attracts more travellers than any other part of India – and Red Dot offers two stock luxury tours for your consideration if you wish to see the highlights of the region in a condensed tour offering luxury accommodation. Whereas our other illustrative high-end offering, Luxury Rajasthan Safari gives you an opportunity to visit Ranthambore game park, a centrepiece of this alternative is the chance to enjoy a night's camping under the desert stars. Rajasthan's stunning palaces and huge forts stand as living monuments in an awe-inspiring desert landscape. The three prongs of the Golden Triangle - the capital, Delhi, the pink city of Jaipur and, in Agra, the incomparable splendor of the Taj Mahal – are all included, as is the lake city of Udaipur. The vivid colors of Rajasthan, whether sampled in cultural festivals or bright tribal dresses and handicrafts, will also leave a permanent impression Ten days, in our view, is an absolute minimum duration to see Rajasthan's highlights. Ask us to slow down the pace of the trip with extra days if you wish. This luxury tour of Rajasthan makes full use of the excellent Oberoi hotels that are a feature of India's most celebrated holiday destination, although our commitment to tailor-made holidays means that we are always willing to discuss any other preferred options.
Our Opinion
This packed exploration of the highlights of Rajasthan offers a memorable experience under the stars at a desert camp as well as the added benefits of luxurious accommodation at the end of the day.
Don't Miss
Highlights of Delhi
The enduring beauty of the Taj Mahal
Historic forts clinging to rocky outcrops
Beautiful royal palaces
A night's camping under the desert stars
A boat ride by the beautiful lakeside city of Udaipur
Shopping for bargains in Rajasthan's colourful bazaars
PACKAGE INCLUDES
Accommodation in a shared double / twin room
Chauffeur-guide and vehicle for the duration of the tour (including leisure days)
Both airport transfers
Expert advice and support prior to and during the tour
TERMS & CONDITIONS
Price shown is a starting price and is subject to change, depending on travel dates / the number of people travelling etc.
Price shown is based on two people sharing a double / twin room
See our Booking Conditions for more details
Day 1 & 2
Delhi
Delhi is India's historic capital city which is reason enough not to regard it as more than just an airport hub at the start of your Rajasthan tour. Much remains worthy of your attention. A full-day guided city tour of old and new Delhi enables you to visit the Red Fort (note: closed on Mondays),Gandhi Smriti, a simple memorial to Mahatma Gandhi where his room and possessions when he was assassinated have been caringly preserved (also closed on Mondays); and more. Find time, too, for Qutub Minar, one of Delhi's most stunning monuments, stretching back to 1193; the National War Memorial, which was established in 2019 at India Gate; and the stunning Akshardham Temple, built entirely of Rajasthani pink sandstone and Italian Carrara marble. Drive past sights such as Jamma Mosque, a pocket of calm in the clamour of Old Delhi, and the modern Lotus Temple, the epitome of cool.
Accommodation: The Oberoi
Recommended Activities: Gandhi Smriti, Qutub Minar, Akshardham Temple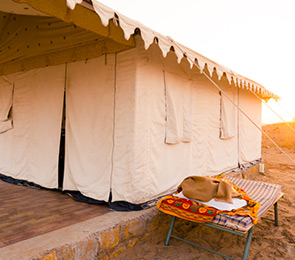 Day 3
Delhi to Manvar Desert Camp (via Jodhpur)
Time to tune in to the beauty of Manvar's desert landscapes. Begin the day with a morning flight to Jodhpur where you will meet your driver for a two-and-a-half-hour drive to Manvar where you will check in to your luxury desert camp. The memorable landscape of Manvar desert camp offers good comfort levels and appeals to those who want to experience the awe of Rajasthan's rugged desert landscapes rather than materialistic paraphernalia. As evening begins to fall, enjoy a jeep safari on the sand dunes, followed by a cultural performance and dinner. Manvar desert camp has comforts such as a/c rooms and wifi, but you may simply to surrender to the serenity of the desert. Sunsets are special here as the desert is daubed in multiple colours.
Accommodation: Manvar Kumat - Thar Luxury Camp (Luxury Tent)
Recommended Activities: Jeep Safari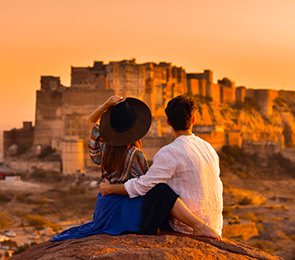 Day 4
Manvar Desert Camp to Jodhpur
Time as a new day dawns for a sunrise camel safari. Fewer working camels are needed these days, and their numbers in Rajasthan have steadily fallen to around 200,000, but they remain a central part of the traditional desert landscape. After breakfast take the journey back to Jodhpur, where you can wander among the narrow medieval streets: shopping in bazaars can be quite an experience. Many of Jodhpur's houses are painted a rich blue, maintaining a tradition started by the city's founder, Rao Jodha. There are many theories why – one suggests that the copper sulphate originally used to protect the houses against termites turned blue in certain conditions. In the afternoon, visit Mehrangarh Fort, which makes its mesmerising way for 10 kms above the town, regarded by many as Rajasthan's finest fort of all.
Accommodation: Taj Umaid Bhawan Palace
Recommended Activities: Mehrangarh Fort, Clock Tower Market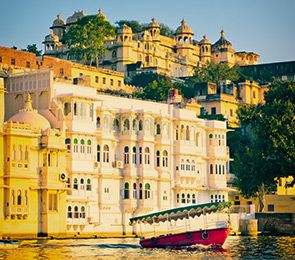 Day 5
Jodhpur to Udaipur (via Ranakpur)
The drive south from Jodhpur to Udaipur is around five hours, but the road is comparatively good so it is time to sit back and enjoy the landscape. There is also a mouthwatering stop en route – the marvellous Ranakpur Jain Temples. The Ranakpur Temples were bult in the 15C and are acclaimed for their intricate architectural style. They lie in an isolated valley in the Aravilla range and are constructed in light marble with more than 1,400 beautifully-carved pillars, none of them identical, so deliberately reminding human beings of their imperfections. Discover the significance of these temples and the peaceful philosophy of the Jain religion. Wonder at their intricate carvings and marvel at the way they can change colour from warm golden to cool blue as the day progresses. Check-in to your Udaipur hotel for the first of two nights.
Accommodation: The Oberoi Udaivilas
Recommended Activities: Ranakpur Jain Temples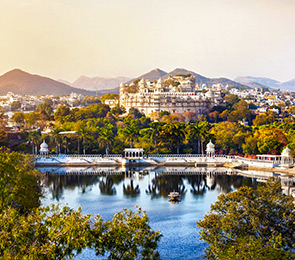 Day 6
Udaipur
Udaipur, the City of Lakes, is one of India's most beautiful cities. It is a place for romance, with creamy-white palaces sitting alongside Lake Pichola, pretty old havelis (mansions) on winding streets, and exotic hotels. The marble palaces, gentle gardens and placid waters make up an enchanting combination. There is so much to cram into a day – in fact you may wish to request extra days here. Get your bearings with the help of a guided city tour. Visit Jagdish Temple, the City Palace Complex – which overlooks the lake and which took more than 400 years to complete - and the Bharathiya Lok Kala Mandal Museum, a cultural heritage museum which features Rajasthani folk art, dance & literature. Round off a satisfying day with a private sunset boat trip on the beautiful Lake Pichola.
Accommodation: The Oberoi Udaivilas
Recommended Activities: Jagdish Temple, City Palace, Bharathiya Lok Kala Mandal Museum, Lake Pichola Private Sunset Boat Trip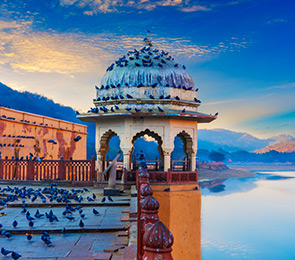 Day 7
Udaipur to Jaipur
Today you transfer north-east from Udaipur to Jaipur and to avoid a gruelling eight-hour road journey we recommend that you opt for an internal flight. The road trip does allow you to visit Chittorgarh Fort (about two hours into your journey). Chittorgarh Fort is regarded as the symbol of Rajput chivalry, resistance and bravery. This sprawling hillside fort, along with other hill forts of Rajasthan, was declared as a UNESCO World Heritage Site in 2013.It lay under siege for about eight months in 1303 and as many as 30,000 Hindus – a colossal number in those days – were said to be put to death after its capture. You will welcome a quiet evening and have all of tomorrow to explore Jaipur. Jaipur, the capital of Rajasthan, and its most tourist-centred city, has royalty at its core. Jai Singh, an 18C Maharaja, designed the city to his liking with royal palaces, gardens and pavilions taking up almost a quarter of the city.
Accommodation: Oberoi Rajvilas
Recommended Activities: Chittorgarh Fort (if driving)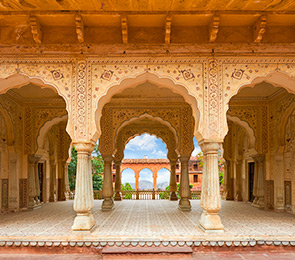 Day 8
Jaipur
The Pink City (salmon is more accurate) was first painted so in 1876 to welcome the Prince of Wales and got subsequent refurbs for Queen Elizabeth II and Princess Diana. The City Palace has a large collection of mace, daggers, shields and other implements of war. The textile collection is rather less threatening. The ponds of the Galta Monkey Palace, crammed into a ravine 3 kms east of Jaipur, provide home for thousands of macaque monkeys. Jantar Mantar Observatory, begun by Jai Singh in 1728, lies next to the Royal Palace and includes the largest sun dial ever built. Highly recommended is Amber Fort, in a one-time capital before water shortages struck. This wonderful honey-coloured fort stands on a rocky mountainside in the Aravalli Hills 12 kms north-east of Jaipur. Visit an ancient step well - the pale-yellow 16C Panna Meena ka Kund impresses with its symmetrical beauty.
Accommodation: The Oberoi Rajvilas
Recommended Activities: Amber Fort, Sawai Man Singh Museum, Hawa Mahal Palace, Galta Monkey Palace, Jantar Mantar Observatory, Step Well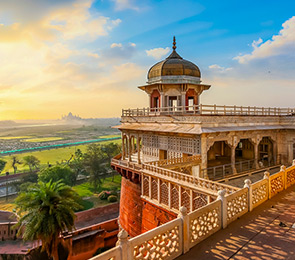 Day 9
Jaipur to Agra
Time to take a four-and-a-half hour drive from Jaipur to Agra, where the Taj Mahal – the greatest monument to romanticism the world has ever seen – awaits the following morning. Experience a Son-et-Lumiere show at Agra Fort, which you will visit after your arrival and before dinner, or take in a display of Kalakriti dance. Agra Fort – also known as the Red Fort – is made out of red sandstone and its 2.5-km-long enclosure walls protected the imperial city of the Mughal rulers. It comprises many dreamlike palaces, audience halls and two beautiful mosques. You can also have a sneak preview of the Ta Mahal from a nearby viewpoint.
Accommodation: The Oberoi Amarvilas
Recommended Activities: Agra Fort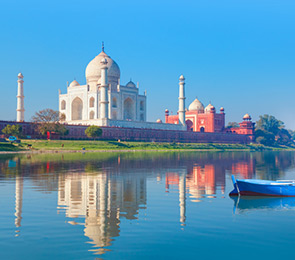 Day 10
Taj Mahal and Agra to Delhi
Visit the Taj Mahal on Day 10 at sunrise which is often more peaceful, although if you are not an early riser, we can try to arrange a night viewing the previous evening. What more is there to say about the Taj Mahal? Its legendary beauty really is famous and even the finest photographs struggle to do it justice. Its construction was ordered by a lovesick emperor, Shah Jahan, when his third wife, Mumtaz Mahal, died while giving birth to their 14th child. The monument stands in her honour and remains the ultimate symbol of love lost in tragic circumstances. Demand is particularly high on one of the Full Moon days (even if five are claimed per month!). Numbers are limited at this time. This glorious experience should fill you with resolve for your lengthy post-breakfast transfer to Delhi (more than five hours) and your flight connections. Depending on your flight time, you might wish to add an extra night. Take note when planning you trip with one of our expert consultants that the Taj Mahal is closed on Fridays.
Recommended Activities: Taj Mahal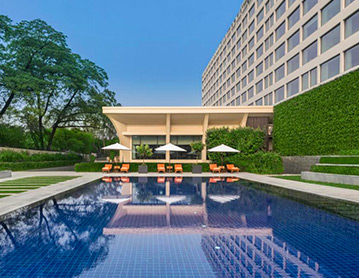 The Oberoi
Delhi, NCT
The Oberoi, New Delhi, has 220 rooms and a reputation as one of Asia's finest. It has views of Humayun's Tomb on one side and a wooded golf course on the other. Award-winning restaurants, spa, pool and fitness centre.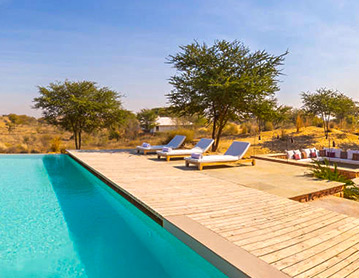 Manvar Kumat - Thar Luxury Camp
Manvar, Rajasthan
One hundred acres of vivid sand dunes and indigenous scrub in the heart of Thar is home to Manvar Kumat Luxury Camp. Ten luxury tents, supported by a separate dining tent, offer the best-quality experience available. In tune with the vast landscape, the capacious air-conditioned tents even possess the indulgence of a large bathtub.
Taj Umaid Bhawan Palace
Jodhpur, Rajasthan
Umaid Bhawan Palace has a prime position at the summit of Chittar Hill, the highest point in Jodhpur, giving it unrivalled view of the historical Blue City, vast sand dunes, and Mehrangarh Fort. The last of the great palaces of India, the property houses 70 bedrooms in Art Deco style, a family museum, as well as the resplendent Umaid Bhawan Palace. Plus, naturally, all the expected 5-star facilities.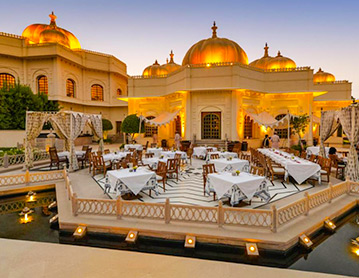 The Oberoi Udaivilas
Udaipur, Rajasthan
An outstanding palace-style hotel with great views over Lake Pichola to the spectacular City Palace. Relax in landscaped gardens and shady courtyards. Eighty-seven rooms boast marble bathrooms with free-standing bathtubs, Facilities include spa and pool.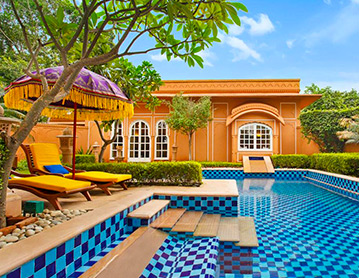 The Oberoi Rajvilas
Jaipur, Rajasthan
Favoured by a relatively peaceful location just outside Jaipur, The Oberoi Raj Vilas is designed like a sprawling Rajasthani desert fort. Stylish tented rooms are supported by Mughal-inspired trellises, courtyard fountains, superb cuisine, and peacocks wandering around its 32-acre grounds.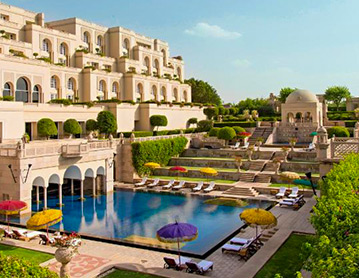 The Oberoi Amarvilas
Agra, Uttar Pradesh
The Oberoi Amarvilas offers unrestricted views of Taj Mahal from all rooms and suite. It is based upon Mughal palace designs with fountains, terraced lawns, pools and pavilions. Excellent restaurants, spa and much more.
Following are recommended optional activities