Snapshot
Red Dot's Sri Lanka and Kerala Tour allows travellers to enjoy the best that Sri Lanka can offer – ancient cities, tea-growing hills and the shimmering waters of the Indian Ocean –before hopping across to Kerala to experience the sights and sounds of Kochi, the serene backwaters and tranquil Kumarakom. As always, the route, length, accommodation and activities of the itinerary can be adjusted in any way you wish.
Our Opinion
A tour which covers the highlights of both Sri Lanka and Kerala and will leave you wanting more.
PACKAGE INCLUDES
Accommodation in a shared double / twin room
Chauffeur-guide and vehicle for the duration of the tour (including leisure days)
Both airport transfers
Expert advice and support prior to and during the tour

TERMS & CONDITIONS
Price shown is a starting price and is subject to change, depending on travel dates / the number of people travelling etc.
Price shown is based on two people sharing a double / twin room
See our Booking Conditions for more details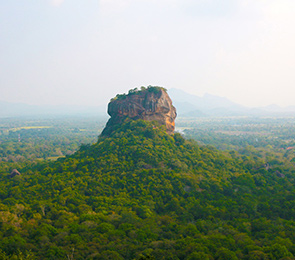 Day 1, 2 & 3
Sigiriya, Cultural Triangle
Upon arriving in Sri Lanka, transfer directly to the Cultural Triangle and rest up after your flight. Spend the next two days exploring the heritage wonders of this region, from the ruined medieval citadel of Polonnaruwa to the iconic Sigiriya Rock Fortress, developed by King Kasyapa in the 5th century and considered by some to be the eighth wonder of the world. A highlight for many is Dambulla Cave Temple, a 2,000-year-old cave temple complex decorated with stunning ceiling frescos which houses the largest number of Buddha statues of anywhere in the world. For some variety, go elephant spotting in Minneriya National Park or meet the monkeys at Polonnaruwa.
Accommodation: Aliya Resort and Spa
Recommended Activities: Dambulla Cave Temple , Polonnaruwa , Sigiriya Rock Fortress , Minneriya National Park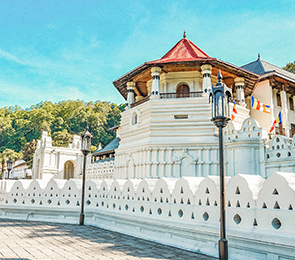 Day 4 & 5
Kandy
Today you journey to Sri Lanka's hill capital, the lakeside city of Kandy. In the evening, we recommend a visit to the Temple of the Tooth where a sacred tooth relic of Lord Buddha – that has been enshrined in the island since 4th century AD – is housed in a golden casket. Religious services, accompanied by traditional music and drumming, are held daily at dawn, midday, and in the evening and can be viewed by travellers. The following day, why not explore the beautiful Botanical Gardens and some of the city's British colonial heritage? There are also many other activities on offer in the surrounding area.
Accommodation: Theva Residency
Recommended Activities: Temple of the Tooth , Royal Botanical Gardens , Kandy City Walking Tour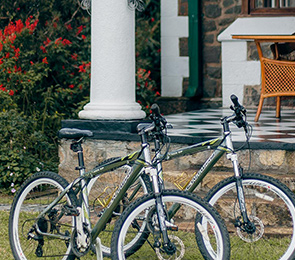 Day 6 & 7
Ella, Hill Country
Travel by train into Sri Lanka's tea-growing highlands. Here the humidity is low and temperatures are akin to an English summer's day, so you can go trekking, cycling and canoeing quite comfortably. Alternatively, visit a tea factory and enjoy a gentle stroll through a plantation, or just soak up the magnificent scenery.
Accommodation: 98 Acres Resort
Recommended Activities: Walking in Ella , Sri Lanka Waterfalls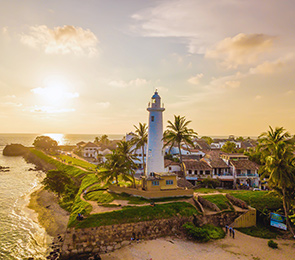 Day 8, 9 & 10
Koggala, Galle Coast
After breakfast, travel to the golden beaches of the south coast. Explore Galle's 17th century Dutch Fort, a UNESCO World Heritage Site with well-preserved heritage architecture, dramatic sea-facing ramparts and maze of narrow streets lined with quaint houses, art galleries, antique shops and restaurants. For those wanting sun and surf, there are several fine beaches in the area including Unawatuna and Mirissa, both of which offer a variety of water-sports.
Accommodation: KK Beach
Recommended Activities: Galle Dutch Fort , 6 Best Water-Sport Activities in Sri Lanka , Take a Sri Lanka surfing lesson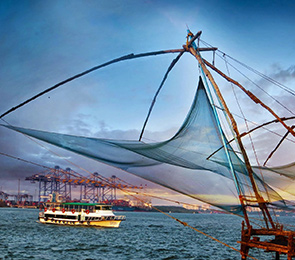 Day 11 & 12
Kochi
Leave early in the morning to the airport to catch your flight to Kerala and arrive mid-morning in Kochi, an ancient trading port scattered across several islands which boasts a fort with beautiful heritage architecture. Consider going on a sunset boat cruise this evening to see the various islands and for great photo opportunities of the iconic Chinese fishing nets. The following day, go on a guided tour of Kochi Fort, the highlights of which include: Mattancherry Palace, a gift to the Raja of Kochi back in 1557; St. Francis Church, first built in 1510; the resting place of Vasco de Gama, and a magnificent synagogue dating back to 1568. During the evening you can watch a Kathakali dance performance – a vibrant, colourful and spellbinding 400-year dance-drama.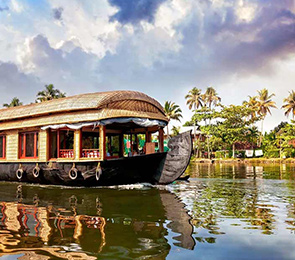 Day 13
The backwaters
Today's transfer to the backwaters is a short one, allowing for a leisurely breakfast before you board your houseboat at noon. The backwaters is a 900km complex of waterways which was used for transporting produce, but today is a tranquil landscape of smooth water lined with small villages and palm trees, visited by the occasional cormorant and a variety of other birds. Your accommodation is an old rice barge, converted into comfortable overnight accommodation with a kitchen, beds and a fully functional bathroom, a dining and sitting area – a team of at least three will be responsible for the driving and maintenance of the boat and the cooking of your meals. A highlight of your afternoon will be taking a small canoe ride through the smaller waterways running through a village. In the evening, tie up to shore and enjoy delicious fresh fish and spicy curries on the open deck of your boat. We can offer good-quality houseboats of all sizes at competitive rates.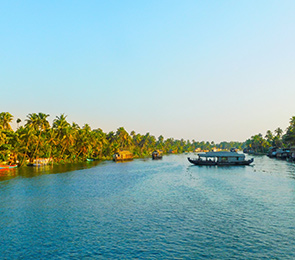 Day 14 & 15
Lake Vembanad
After breakfast, you will have another two hours to cruise as you head for Kumarakom, an island on the large Lake Vembanad that is blessed with an idyllic location. The area has attracted several beautiful hotels offering a tranquil place to end your holiday. Ayurvedic treatments can be done at many of these properties.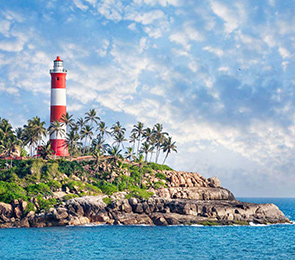 Day 16
Kochi
Depart for Kochi Airport to begin your journey home.