Snapshot
Find total rejuvenation through Red Dot's Sri Lanka Ayurvedic Healing tour, an intensive immersion in the ancient art of Ayurveda, a practice of natural healing which came to Sri Lanka from India in 6th century BC and remained the island's main form of healthcare all the way up to the 19th century. Your tour comprises of two stays at treasured wellness retreats which uphold the traditions of Ayurveda and boast glorious escapist settings that take you away from everyone and everything. Spend your days indulging in special massages and herbal baths and following the nutritional advice of an Ayurvedic doctor, whilst taking the time to re-connect with nature through gentle outdoor activities such as lake kayaking, hill walks and river bathing. Both wellness retreats also offer guided yoga and meditation classes to aid the recovery of your mind, body and soul.
Our Opinion
Dedicating three weeks to this immersion in Ayurveda will restore your mind, body and soul.
Don't Miss
Experience the ancient healing techniques of Ayurveda
Stay in idyllic wellness retreats well away from the crowds
Cleanse your body with lake and river baths
Practice yoga and meditation in beautiful surroundings
Enjoy the rare sensation of slowing down and being still
Reconnect with the natural world
Rejuvenate your mind, body and soul
PACKAGE INCLUDES
Accommodation in a shared double / twin room
Chauffeur-guide and vehicle for the duration of the tour (including leisure days)
Both airport transfers
Expert advice and support prior to and during the tour

TERMS & CONDITIONS
Price shown is a starting price and is subject to change, depending on travel dates / the number of people travelling etc.
Price shown is based on two people sharing a double / twin room
See our Booking Conditions for more details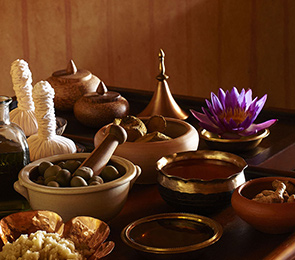 Day 1 to 13
Ibbagamuwa, Cultural Triangle
Your tailored ten-day Ayurvedic programme will be developed after your initial consultation with the resident Ayurvedic doctor. The programme will include traditional Ayurvedic treatments such as shirodhara, the slow pouring of hot oil onto the forehead; massages using oil made with a particular blend of plants and spices to suit you; herbal baths, and following a special vegetarian diet plan personalised to your health and body type. In addition to your programme, you will have plenty of time to explore your idyllic escapist surroundings. Ulpotha is cradled on one side by mountains and a lotus-filled lake whilst a carpet of emerald paddy fields covers the other: go kayaking on the lake; take an early morning swim; head out on foot with only monkeys and birds disturbing the peace, and explore the organic garden. You will also be able to indulge in high-quality yoga sessions and outdoor meditation to soak in the energy of this historically sacred area. A remote and rustic escape that will leave you rejuvenated and with a newfound appreciation of the beauty of the world.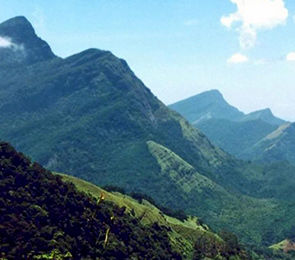 Day 14 to 20
Kandy
Travel out of Sri Lanka's Cultural Triangle to the glorious Knuckles Mountain Range, a lesser-visited edge of Sri Lanka's awe-inspiring central hills. Your accommodation for the week is The Samadhi Centre, a beautiful property filled with traditional art, religious statues and characterful, colourful decorations. Samadhi Centre is devoted to giving guests a spiritual experience, encouraging silence in the shared spaces and offering unusual activities such as Reiki treatments and astrology lessons in addition to yoga, meditation and Ayurveda. You can also try out cleansing river bathing in the secluded woods close to the property. During your stay, head out on foot into the Knuckles Mountain Range and take in the total tranquillity of this picturesque setting as you pass through quiet villages and rolling tea estates, interspersed with cloud forest and gently rushing waterfalls.
Accommodation: Samadhi Centre
Recommended Activities: Knuckles Mountain Range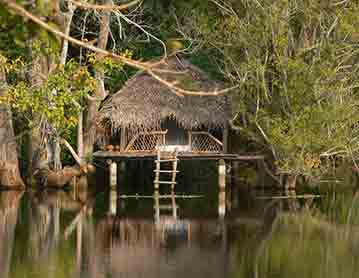 Ulpotha
Cultural Triangle
Ulpotha is not just a yoga retreat - more a search for life's true meaning. It is a tranquil place where guests seek a spiritual quality to existence, a sanctuary for idealists yearning for a more serene and harmonious lifestyle. Here, visitors stay in wattle and daub huts with oil lamps, and mosquito nets and eat traditional curries cooked in a pot over a hearth.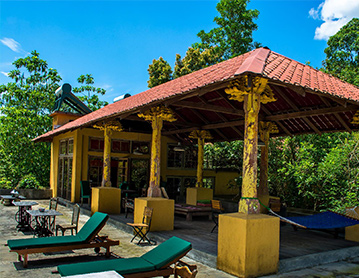 Samadhi Centre
Knuckles, Kandy
The Samadhi Centre is a wellness retreat located an hour away from Kandy focusing on the Buddhist philosophy of meditation. Created from an abandoned tea plantation on the edge of the Dumbara valley by Waruna Jayasinghe, antique dealer and organic farmer, the retreat provides Ayurveda treatments as well.
Following are recommended optional activities
Knuckles Mountain Range
Knuckles, Kandy
Trek through the Knuckles Mountain Range, named thus because of its resemblance to a clenched fist, five mountain peaks spanning 155sqkm which host a wide range of rare endemic flora and fauna.