Snapshot
For those of you who think that life's a beach, the Sri Lanka Beach Hopper enables you to swoon romantically over every sunset you see. We have selected three mid-range boutique hotels in Sri Lanka's south-west blessed by fabulous beaches. Bentota, Mirissa and Unawatuna (close to the fortified town of Galle) are close enough together to keep transfer times to a minimum. If you wish, you can travel further afield to Kalpitiya on the north west coast or to Sri Lanka's Deep South, arrange a day trip into the hills for a touch of variety, or turn this itinerary into a money-saving budget treat that will prove that Sri Lanka can also deliver beach holidays at bargain prices.
Our Opinion
One for the restless beach lover - why lie on just one beach when you can lie on three?
Don't Miss
Experience the palm-fringed beaches and turquoise waters of the South Coast
Take a whale and dolphin expedition in Mirissa
Try water-sports on Bentota lagoon on the West Coast
Marvel at endangered Marine Turtles in Rekuwa
Stroll around Galle's 17C Dutch Fort
PACKAGE INCLUDES
Accommodation in a shared double / twin room
Chauffeur-guide and vehicle for the duration of the tour (including leisure days)
Both airport transfers
Expert advice and support prior to and during the tour

TERMS & CONDITIONS
Price shown is a starting price and is subject to change, depending on travel dates / the number of people travelling etc.
Price shown is based on two people sharing a double / twin room
See our Booking Conditions for more details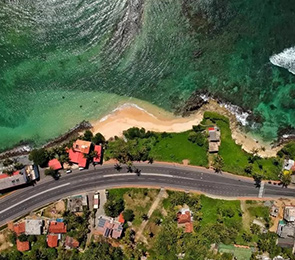 Day 1, 2 & 3
Bentota, West Coast
We will meet you at the airport and transfer you directly to Bentota, where the west coast sands are at their finest. Bentota offers a range of water-sports including windsurfing, snorkelling, jet boating and water-skiing and the sunsets are as good as they get. For a break from the beach life, visit nearby Lunuganga – a garden retreat that was created by Geoffrey Bawa with numerous varieties of foliage, many pavilions, and statues.
Accommodation: Club Villa
Recommended Activities: Geoffrey Bawa's Lunuganga , 6 Best Water-Sport Activities in Sri Lanka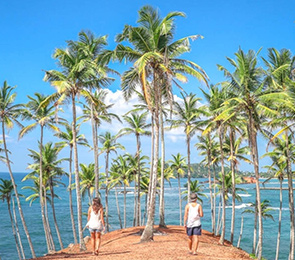 Day 4, 5, & 6
Mirissa, South Coast
Your next target is Mirissa, not much more than an hour to the south. Sri Lanka's jagged south coast from Galle to Tangalle consists of several coral-protected coves which offer a different feel from the broad sands of Bentota. Mirissa is a justifiably popular beach for surfing, snorkelling, scuba diving and deep-sea fishing. Whale watching excursions are organised by Mirissa Water Sports during the season from December to April when the seas are calm. Learn to surf or take a trip to Rekawa, a beach where marine turtles come to nest. The Mulgirigala Temple in Tangalle is another fascinating expedition. Perched on an enormous boulder more than 200m high, this ancient temple dates back almost 2,000 years when it was a site of a Buddhist monastery.
Accommodation: Parrotfish Bay
Recommended Activities: Whale Watching in Mirissa , Mulgirigala Rock Temple , Take a Sri Lanka surfing lesson , Rekawa Turtle Watch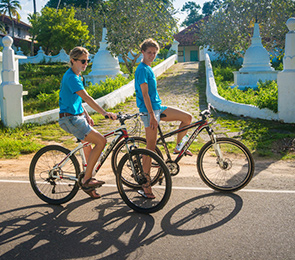 Day 7 & 8
Unawatuna, Galle Coast
Head back along the picturesque southern coast to the historic city of Galle, Sri Lanka's greatest creative hub. Spend your final two nights in a beach hotel on the Galle coast at Unawatuna, close enough to see the fortified town in the distance. Experience life within this fascinating fort, which is a UNESCO World Heritage Site. Wander around the maze of narrow streets which are lined with quaint houses, Dutch- and British-period buildings still in use, and a a growing collection of art galleries, museums, shops and cafes. Consider a guided bicycle trail along nearby rural roads.
Accommodation: Coco Bay
Recommended Activities: Galle Dutch Fort , Galle Guided Bicycle Trails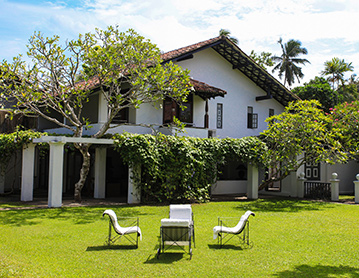 Club Villa
Bentota, West Coast
Club Villa is an enchanting holiday retreat on a broad and peaceful stretch of beach on the southern outskirts of Bentota. This much-loved property, originally built by Geoffrey Bawa, is cherished by a loyal clientele for a peaceful atmosphere in a pretty coconut grove, immaculate service and good-quality food.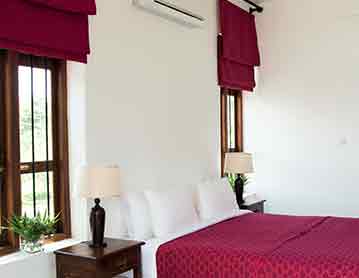 Parrotfish Bay
Mirissa, South Coast
A truly escapist setting on a beautiful bay just south of Mirissa gives Parrotfish Bay an advantage enjoyed by few. This contemporary villa in traditional style is sold by the room and is a perfect spot for lovers