Snapshot
The Sri Lanka Cultural Tour gives you a deep appreciation of the island's history. You will gain a better understanding of Sri Lanka's rich cultural and religious heritage on a tour designed also to uncover lesser-known, but still entrancing remains of Sri Lanka's cultural past. As ever, we can adjust this itinerary in order to suit your needs: you may have the luxury to slow the tour down in places for more relaxation time, uncover the heritage of Jaffna in the far north or simply to enjoy some beach days at the end of your holiday.
Our Opinion
If you want a cultural tour that really gets under the skin of Sri Lankan history then this holiday in the heart of Sri Lanka's Cultural Triangle is for you
Don't Miss
Learn of the ancient kingdoms of Anuradhapura and Polonnaruwa
Discover the Cultural Triangle's rock fortresses and hill-top palaces
Explore Dambulla's serene Buddhist cave temples
Visit Kandy's Temple of the Tooth
Experience one of the finest train journeys in the world
Visit the jungle shrine of Kataragama
Discover life within Galle's 17C Dutch Fort
Enjoy the palm fringed beaches and turquoise waters of the south
PACKAGE INCLUDES
Accommodation in a shared double / twin room
Chauffeur-guide and vehicle for the duration of the tour (including leisure days)
Both airport transfers
Expert advice and support prior to and during the tour

TERMS & CONDITIONS
Price shown is a starting price and is subject to change, depending on travel dates / the number of people travelling etc.
Price shown is based on two people sharing a double / twin room
See our Booking Conditions for more details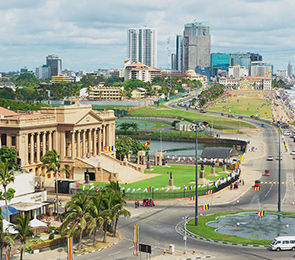 Day 1
Colombo
Upon arriving in Sri Lanka, transfer to Colombo where, if you wish, we will arrange a discussion with a local historian about the tour ahead in one of the capital's most historic settings.
Accommodation: Galle Face Hotel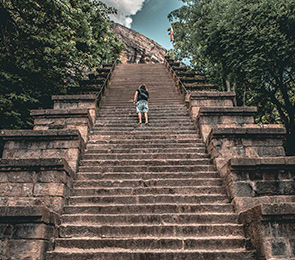 Day 2
Anuradhapura, Cultural Triangle
Journey to the Cultural Triangle in the North Central region. Your first stop this morning is the architectural wonder of Yapahuwa. Climb an impressive staircase, decorated by murals and guarded by lions, to what remains of the palace. If time permits visit Sasseruwa, an ancient cave monastery possessing a striking Buddha statue. Then onward to Aukana, where the wonderfully-preserved Buddha stands 42 feet high. Your hotel near Anuradhapura is for two nights.
Accommodation: Forest Rock Garden
Recommended Activities: Yapahuwa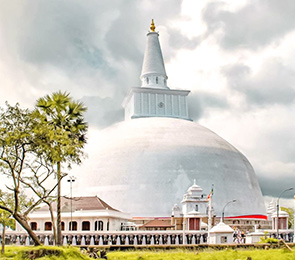 Day 3
Anuradhapura, Cultural Triangle
Explore Mihintale, where Buddhism took root in Sri Lanka. Consider an early-morning climb up 1,840 steps to the summit of Mihintale rock. The pagodas and monastic cave dwellings are more easily experienced. Visit the 'Mahakanadarawa' stone bridge, which dates back to the 7C, hidden in the forest. Then discover the ancient kingdom of Anuradhapura, once the greatest monastic city of the world. It served as Sri Lanka's capital for around 1,400 years until Polonnaruwa took precedence in 1073. Archaeologists in the 18C felt they were discovering a lost city, and you will understand why as you gaze upon the remains of the palaces, statues and pleasure gardens.
Accommodation: Forest Rock Garden
Recommended Activities: Mihintale , Anuradhapura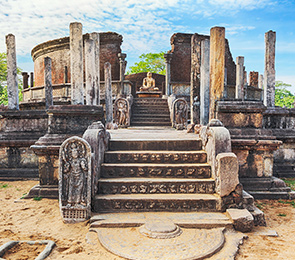 Day 4
Kandalama, Cultural Triangle
Polonnaruwa became Sri Lanka's royal medieval capital in 1073 and remained Sri Lanka's capital until the late 13C. Today, the ancient city's ruins remain in remarkably good order. The most impressive are the ancient sculptures of Lord Buddha at the Gal Vihara cut into Granite stone. The Archaeological Museum short drive away gives an insight into the kingdom. Visit the Polonnaruwa tank and understand why many Sri Lankans revere Parakramabahu the Great above all other rulers, or take a forest walk to Ritigala. Today you also switch hotels to help reduce travel times.
Accommodation: Heritance Kandalama
Recommended Activities: Polonnaruwa , Ritigala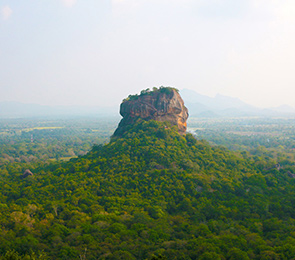 Day 5
Kandalama, Cultural Triangle
Rise early and climb the magnificent Sigiriya Rock, another of Sri Lanka's fascinating UNESCO World Heritage Sites. No matter how often you climb to the summit of this one-time fortress of the murderous, maverick, Sinhalese king, Kasyapa, the pleasure remains. Many scholars believe that Kasyapa sought to rule as a God-king. About two hours can happily be spent walking through water gardens, and then up the steep steps - either hewn out of the rock or on circular iron staircases - past the frescoes. In the afternoon, take in Dambulla Cave Temple and see the largest, best-preserved cave-temple complex in Sri Lanka.
Accommodation: Heritance Kandalama
Recommended Activities: Dambulla Cave Temple , Sigiriya Rock Fortress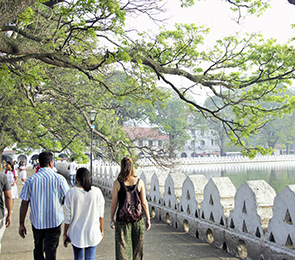 Day 6
Kandy
After breakfast, head to Sri Lanka's hill capital - the small lakeside city of Kandy. On the way, visit the ancient Aluvihara rock temple, located in Matale. Aluvihara is of great significance in the history of Buddhism. It was here that the oral teachings of the Buddha were committed to writing – the Tripitaka - for the first time in 3rd century AD. Visit the Temple of the Tooth where a sacred tooth relic of the Lord Buddha is enshrined since 4th Century A.D. The temple has decorative walls, a golden roof and fine woodwork. Religious services with traditional music and drumming are held daily at dawn, midday and in the evening where guests can participate.
Accommodation: Mountbatten Bungalow
Recommended Activities: Temple of the Tooth , Aluvihara Cave Temple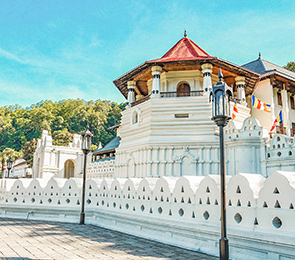 Day 7
Kandy
Explore Kandy independently or arrange a guided tour of the city. In Kandy, Buddhist temples displaying ancient Kandyan art sit side-by-side with buildings bearing British architecture and other British influences such as the delightful Royal Botanical Gardens, with its orchid collection and formally laid-out trees, or the British cemetery, where the tombs include that of Sir Arthur Conan Doyle, creator of Sherlock Holmes. Look in at the Archaeological Museum. Learn of Kandy's rich ancient arts and crafts including traditional Kandyan dance and drumming and even have a drumming lesson.
Accommodation: Mountbatten Bungalow
Recommended Activities: Kandy City Walking Tour , Play a Sri Lankan drum , Royal Botanical Gardens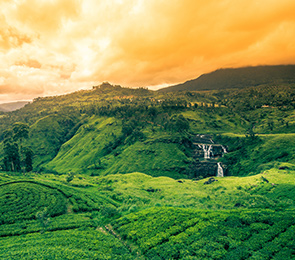 Day 8
Nuwara Eliya, Hill Country
This morning you hop on aboard a train and head to the one-time British hill station of Nuwara Eliya - a land of lush tea plantations, majestic peaks and attractive tea bungalows. Visit Paranagama and learn how the British crushed the rebellion of 1817/18 with a scorched-earth policy. If there's time call in at Hakgala Botanical Gardens or the nearby Bomburuella waterfall, one of Sri Lanka's finest. Spend just one night in Nuwara Eliya to cut travel time over the next two days.
Accommodation: The Oliphant Boutique Villa
Recommended Activities: Sri Lanka Waterfalls , Kandy to the Hill Country by train
Day 9
Koslanda, Hill Country
Sir Thomas Lipton launched his tea empire in the Haputale Mountains. To see where it all began, visit Lipton's Seat, his favourite vantage point to gaze upon his enormous estate. Adisham - a Benedictine Monastery with a century old stone buildings is also another interesting site to visit in Haputale. The Nine Arches Bridge is one of the iconic bridges in Sri Lanka and can be found between Ella and Demodara railway stations.
Accommodation: The Planter's House
Recommended Activities: Nine Arch Bridge , Lipton's Seat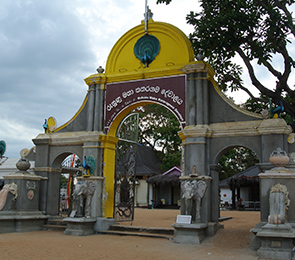 Day 10
Tissamaharama, Tissa & Kataragama
Today you travel to the south-east of Sri Lanka, a rural corner of the island famous for its huge game reserves, vast sugar cane and paddy fields, and rich cultural heritage. En route, take a small detour to Buduruvagala to see Sri Lanka's tallest rock-cut Buddha statue, 51 ft. in height, and other Mahayana Buddhist statues dating back to the 8th-century AD. The afternoon is spent at the sacred jungle shrine of Kataragama located nearby. This holy shrine was built by the warrior King Dutugemunu in the 2nd century B.C. to pay homage to God Kataragama. This shrine is worshipped by people of many faiths. Each day, the shrines come alive when poojas are presented to the Gods. The baskets filled with fruit and flowers, the aromas from burning incense and oil lamps, the sounds of dashing coconuts, clanging bells and continuous chanting all combine to provide a mesmerizing experience.
Accommodation: Kithala Resort
Recommended Activities: Buduruwagala , Kataragama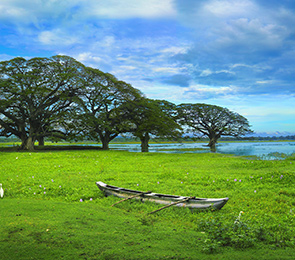 Day 11
Tissamaharama, Galle
You awake on the outskirts of Tissamaharama, the capital of the ancient Ruhunu Kingdom in the 2nd century B.C. Tissa, named after King Kavantissa, is dominated by gigantic semi-circle shaped Buddhist Dagobas (temples),lush green paddy fields and lotus-filled lakes. The sprawling Tissa Wewa was built by King Kavantissa 2,300 years ago. By late morning, you travel along the south coast to the historic city of Galle. Opt for the new motorway or amble along a beautiful coastline and grab lunch by the beach along the way. As always with Red Dot, the choice is yours.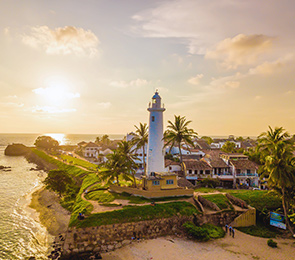 Day 12
Galle Fort, Guided Walk of Galle Fort History and Architecture
Galle Fort is a magnet for tourists eager to explore this UNESCO World Heritage Site. Hours can be spent exploring a maze of narrow streets lined with a collection of small art and craft shops, cafes and beautiful boutique hotels. If you wish you can opt for a guided tour of Galle Fort. There are also some fine beaches just outside the Fort if you are inclined to take a few hours out and examine culture 21st century style.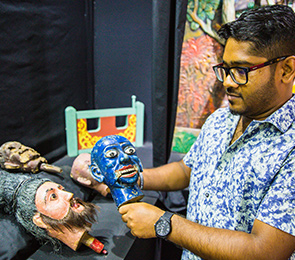 Day 13 & 14
Sri Lanka Puppet Show, Geoffrey Bawa's Lunuganga
Two days in the beach town of Bentota complete your cultural holiday. Take the chance to learn about the ancient art of Sri Lankan puppet making and the history that they represent. Sri Lankan culture is also represented in the past half-century by the acclaimed architect Geoffrey Bawa: the nearby Lunuganga Estate, his country home, gives you an insight into his character. We have opted to complete your holiday at a colonial-style beach hotel but you can opt for Lunuganga (or any other property) if you prefer.