Snapshot
Sri Lanka Wildlife and Beach Retreat is a get-away-from-it-all tour where you can relax amid quiet wildlife areas and peaceful tropical beaches. Tranquillity and the natural world is at the heart of this itinerary which deliberately avoids many of the island's busiest spots in its determination to escape the herd. The tour begins and ends with some of Sri Lanka's most peaceful spectacular beaches and includes visits to three quieter national parks, a trek in the Knuckles Mountain Range, an opportunity to see Sri Lanka's marine turtles and the potential for a whale and dolphin watching expedition. It can be adjusted to suit your accommodation requirements and the time of year you wish to travel.
Our Opinion
Sri Lanka draws in countless tourists because of its game parks and gorgeous beaches and this tour combines them both in classic fashion
Don't Miss
Try water-sports on Kalpitiya Lagoon on the north-west coast
Explore peaceful Wilpattu National Park
Visit Kandy's renowned Temple of the Tooth
See large herds of elephants at Uda Walawe National Park
Enjoy water sports on the sun-drenched beaches of the south coast
Opt for a whale and dolphin watching excursion in Mirissa
PACKAGE INCLUDES
Accommodation in a shared double / twin room
Chauffeur-guide and vehicle for the duration of the tour (including leisure days)
Both airport transfers
Expert advice and support prior to and during the tour

TERMS & CONDITIONS
Price shown is a starting price and is subject to change, depending on travel dates / the number of people travelling etc.
Price shown is based on two people sharing a double / twin room
See our Booking Conditions for more details

Day 1, 2 & 3
Kalpitiya, North-West Coast
From your pick up at the airport, transfer straight to Kalpitiya on the north-west coast (approximately three hours away) for the first three nights of your holiday. Kalpitiya offers beaches untouched by mass tourism, picturesque lagoons and a wide range of water-sports including kite-surfing and windsurfing. The waters around Kalpitiya are home to dolphins, whales, sting rays and marine turtles: go on a whale and dolphin watching expedition with strong ethical credentials or snorkel around the coral reefs and spot plenty of colourful tropical fish. Relax on the quiet beaches and enjoy some spectacular sunsets.
Accommodation: Khomba House
Recommended Activities: Kitesurfing in Sri Lanka , Windsurfing in Sri Lanka
Day 4 & 5
Wilpattu National Park, North-West Coast
Today you have a short journey deeper into Sri Lanka's north-west region, moving away from the beaches towards your base for Wilpattu National Park. Wilpattu is one of Sri Lanka's largest and oldest wildlife parks – as well as the most beautiful - and has a wide range of habitats, from the coastal belt and lakes to open grassy plains and thick forest. Spot leopards, water buffalo, crocodiles or kingfishers. As Wilpattu is positioned away from the common tourist trails, an entire day of safari can pass in splendid isolation.
Accommodation: The Ibis, Wilpattu
Recommended Activities: Wilpattu National Park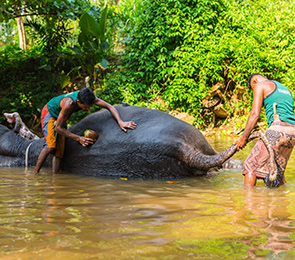 Day 6
Kandy
Spend the morning travelling to the hill country capital of Kandy. Visit Kandy's botanical gardens, regarded as among the finest in Asia. You only have one night in Kandy but you might like to take the chance to visit its star attraction, the Temple of the Tooth, which is said to house the sacred tooth relic of the Buddha.
Accommodation: Villa Rosa
Recommended Activities: Temple of the Tooth , Royal Botanical Gardens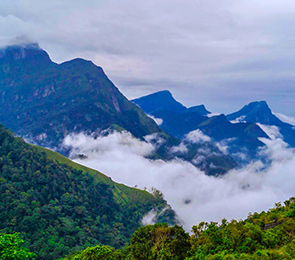 Day 7
Bobebilla, Kandy
A relatively short journey today takes you east into the Knuckles Mountain Range. This lightly-populated area is wonderful walking country – as good as anywhere in the world. Many walks can be devised through tea estates and woodlands and you might well have spectacular mountain views to yourself!
Accommodation: Rangala House
Recommended Activities: Hike in the Knuckles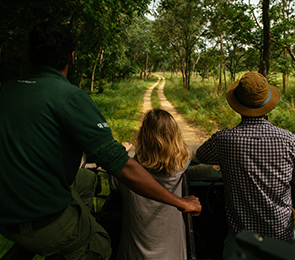 Day 8 & 9
Gal Oya National Park, East Coast
Travel further east so you can spend two days in Gal Oya National Park. Take a boat safari across the Senanayake Samudraya reservoir, amid an orchestra of tropical bird song, where you might even thrill to the enchanting sight of a lone elephant swimming between islands at sunset. The elusive leopard, wild boar, water buffaloes, deer and crocodiles are among the inhabitants of this serenest of parks. Consider a two-hour ascent to the summit of Monkey Mountain for a spectacular vista.
Accommodation: Gal Oya Lodge
Recommended Activities: Gal Oya National Park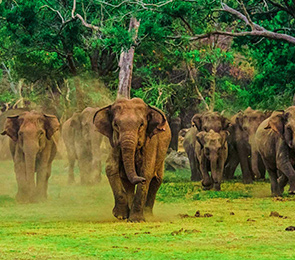 Day 10
Udawalawe National Park, Tissa & Kataragama
Time to head west into the southern central area of Sri Lanka to spend one night at Udawalawe National Park. Uda Walawe is undoubtedly the best place in Sri Lanka to see wild elephants throughout the year. Go on a half-day jeep safari and watch for leopard, sloth bear, water buffalo, deer and mongooses. Spend time at the Udawalawe Transit Home, an ethically sound venture where orphaned baby elephants are rehabilitated to return to the wild.
Accommodation: Kalu's Hideaway
Recommended Activities: Udawalawe Elephant Transit Home , Udawalawe National Park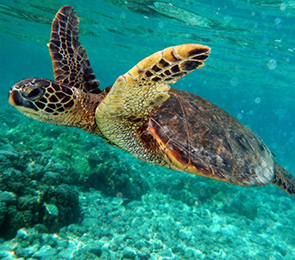 Day 11, 12 & 13
Rekawa, South Coast
Spend the last few days of your holiday relaxing on Sri Lanka's stunning south coast. If you can drag yourself away from the tranquil golden beaches, head along the coastline up to Mirissa, a lively beach town which has a beautiful bay and offers a host of water-sports including surfing, snorkelling, sailing and sea-kayaking, as well as boat excursions out into the ocean in search of whales and dolphins. Reserve one night for visiting the Turtle Conservation Project in Rekawa, where you can witness marine turtles nesting.
Accommodation: Buckingham Place
Recommended Activities: Whale Watching in Mirissa , Bundala National Park , Surfing in Sri Lanka , Rekawa Turtle Watch