Snapshot
Red Dot's Sustainable Sri Lanka tour has been specially designed for travellers who are conscious about minimising their environmental impact as they travel around Sri Lanka. During this tour, you will explore Sri Lanka extensively, experiencing the island's diverse landscapes through a range of activities which allow you a glimpse into the daily routines of local communities, enable you to support local conservation projects and keep your carbon footprint to a minimum. For your accommodation, we have selected high-quality properties which strive to promote sustainable tourism practices, both through their day-to-day operations and via long-term solutions. As always with Red Dot, this itinerary can be altered in any way you wish, or our talented team can make suggestions of how it can be tweaked to make it more personal to you.

Our Opinion
Our classic Sri Lanka tour with a focus on being environmentally-friendly.

Don't Miss
Stay in a hotel that used to be a working tea factory
Trek through the picturesque Knuckles Mountain Range
Cycle around Anuradhapura to see ancient ruins in the Cultural Triangle
Go on a tranquil boat safari which ends with a viewpoint breakfast
Spend time focusing on mind and body wellness
Venture into the jungles of Yala in search of Sri Lanka's wildlife
Explore a 50-acre coconut plantation by bullock cart
PACKAGE INCLUDES
Accommodation in a shared double / twin room
Chauffeur-guide and vehicle for the duration of the tour (including leisure days)
Both airport transfers
Expert advice and support prior to and during the tour
TERMS & CONDITIONS
Price shown is a starting price and is subject to change, depending on travel dates / the number of people travelling etc.
Price shown is based on two people sharing a double / twin room
See our Booking Conditions for more details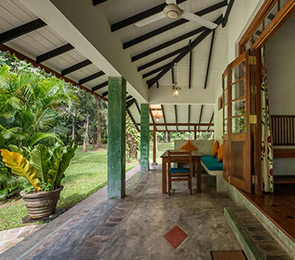 Day 1 & 2
Horathapola, North-West Coast
On arrival, head straight to Horathapola Estate. This old-style villa houses seven uniquely-designed rooms and sits in the middle of an idyllic 50-acre plantation devoted to growing coconuts, fruits, vegetables and spices. Enjoy a morning walk through this extensive estate and then head out to explore the village and watch the locals go about their work. Cooking demonstrations, using fresh produce from the plantation, are also on offer. End your day with a sunset bullock-cart ride around the property.
Accommodation: Horathapola Estate
Day 3, 4 & 5
Kandalama, Cultural Triangle
Sri Lanka's Cultural Triangle, home to the island's ancient cities and most astonishing heritage sites, is a must-visit during a tour of the country. Climb Sigiriya Rock to set your eyes on the wondrous views from the top; explore the expansive 2,000-year-old ruins of Anuradhapura by bike with a guide, and traverse Minneriya National Park by jeep to spot wildlife, the highlight being the large herds of elephants. For the duration of your time in the Cultural Triangle, you will be staying at the much-loved Heritance Kandalama, Geoffrey Bawa's 'austere jungle palace' which has won many accolades for its sustainable practices including conservation and reforestation.
Accommodation: Heritance Kandalama
Recommended Activities: Anuradhapura , Dambulla Cave Temple , Sigiriya Rock Fortress , Minneriya National Park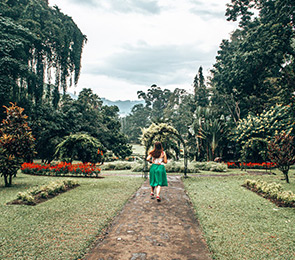 Day 6 & 7
Kandy
A relatively short drive today takes you to the Hill Country capital of Kandy, which you will be passing through on your way to your next stay. You have the option of exploring Kandy, which as Sri Lanka's last royal capital and a centre of British colonial rule has many interesting historic attractions. Your hotel, which sits in the Knuckles Mountain Range about an hour out of the city, was designed to have as little impact on the environment as possible with minimalist features and no air-conditioning. Whilst you are here, you can indulge in some Ayurvedic treatments, yoga, healthy food and trekking.

Accommodation: Santani Wellness Resort & Spa
Recommended Activities: Kandy City Walking Tour , Hike in the Knuckles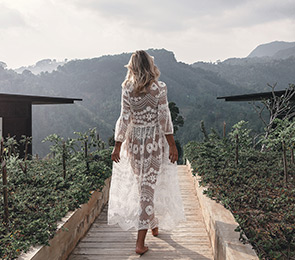 Day 8 & 9
Kandapola, Hill Country
Head deeper into the island's central hills, which have been covered in rolling tea fields for 150 years, until you reach your hotel that was previously a tea factory in all its glory. Enjoy the cooler weather and blissful scenery of this region: go on gentle walks through the fields surrounding your hotel; head into nearby Nuwara Eliya, the hill country retreat of the British during their period of rule, and make sure to visit one of the area's old but fully-operational tea factories to learn about the process of producing a drink which is popular the world over.

Accommodation: Heritance Tea Factory
Recommended Activities: Nuwara Eliya Golf Club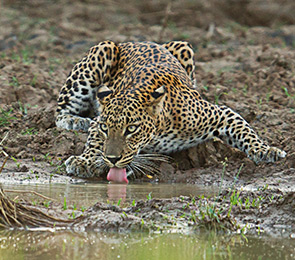 Day 10 & 11
Yala National Park, Yala
A few hours' drive takes you to Sri Lanka's most well-known national park, renowned as having the highest density of leopards of anywhere in the world. Yala National Park can be quite a busy spot in popular tourist months, but your expert guides at Ceylon Wild Safaris know where to go to escape the crowds as they cleverly track the animals in the park on your twice-daily jeep drives. Ceylon Wild Safaris is a venture that strives to promote sustainable tourism in all areas of its operation: the campsite runs solely on solar power, and its owners do much to support wildlife conservation projects and the local community.

Accommodation: Ceylon Wild Safaris
Recommended Activities: Yala National Park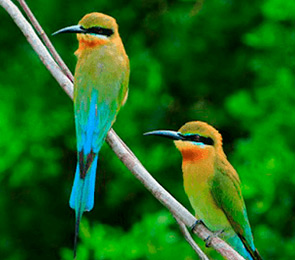 Day 12 & 13
Ambalantota, South Coast
Wind along the idyllic south coast road to Ambalantota, the last stop of your holiday which lies away from the tourist trail. Your accommodation is a unique boutique hotel that prides itself on its sustainability efforts, boasting naturally-ventilated rooms and an organic vegetable patch. Enjoy a beautiful boat safari that culminates with breakfast on a rock, and walk along the breath-taking red cliffs of Ussangoda. Birders may wish to head to nearby Bundala National Park which is home to over 200 species of birds – visiting between December and March is particular rewarding.

Accommodation: Ravana Garden
Recommended Activities: Bundala National Park , Bundala & Tissa Wetlands
Following are recommended optional activities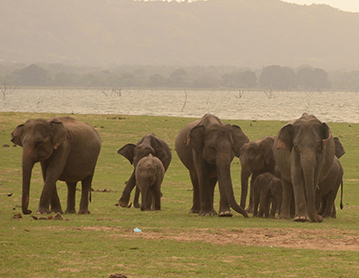 Minneriya National Park
Habarana, Cultural Triangle
Minneriya National Park is a small but popular wildlife park home to a wide range of Sri Lanka's wildlife. It is also the site of the world-renowned wildlife event 'The Elephant Gathering'.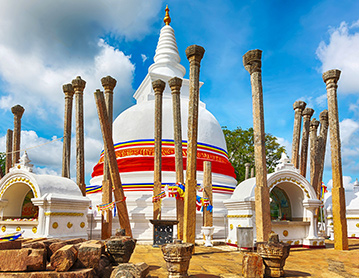 Anuradhapura
Anuradhapura, Cultural Triangle
Discover the majestic remains of Sri Lanka's first capital, originally built in the 4th century BC, the ruling place for over 100 Sri Lankan kings. You can explore these extensive ruins by bike.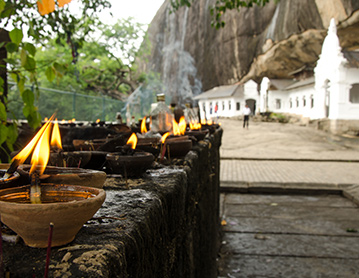 Dambulla Cave Temple
Dambulla, Cultural Triangle
The most famous cave temple complex in Sri Lanka, the ancient Dambulla Cave Temple boasts the largest number of Buddha statues to be housed in one place, as well as stunning ceiling paintings.
Sigiriya Rock Fortress
Sigiriya, Cultural Triangle
Sigiriya, a UNESCO World Heritage Site, is one of the most majestic, awe-inspiring and stunning historical locations in the world, built in the 5th century AD by 'mad' King Kasyapa.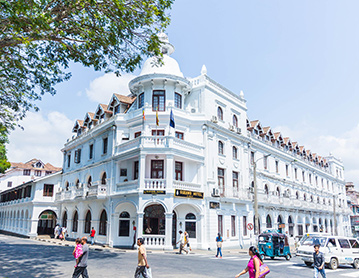 Kandy City Walking Tour
Kandy
Discover Kandy's rich history which includes incredible art and architecture, Buddhism, British colonial rule, and its vibrant multicultural present.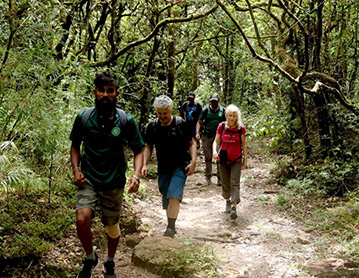 Hike in the Knuckles
Knuckles, Kandy
The Knuckles Mountain Range is perfect for hiking – a land of mystical peaks, chattering waterfalls and hidden hillside villages, with breathtaking visas and a remoteness that will appeal to experienced and novice hikers alike.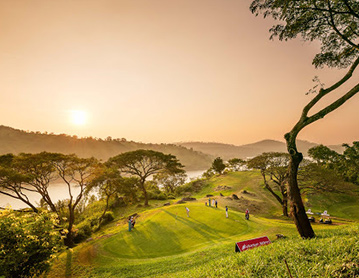 Nuwara Eliya Golf Club
Nuwara Eliya, Hill Country
Set amidst the tea plantations of the central highlands, Nuwara Eliya Golf Club is a charming course with spectacular views which was built by a Scottish soldier in 1889.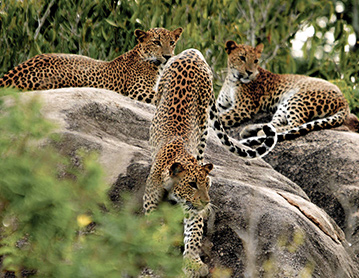 Yala National Park
Yala National Park, Yala
Yala National Park, situated in the south-east corner of the island, is home to the greatest variety of Sri Lanka's wildlife including the island's big game – elephants, leopards and sloth bears.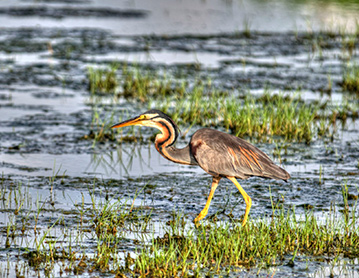 Bundala & Tissa Wetlands
Bundala, Tissa & Kataragama
Bundala & Tissa wetlands combine 20km of beach, lagoons and scrub hosting more than 150 bird species and should delight bird lovers in Sri Lanka.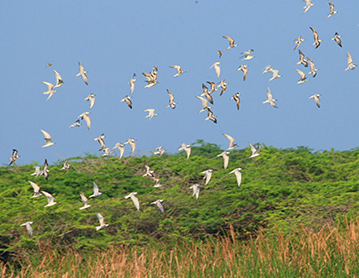 Bundala National Park
Bundala, Tissa & Kataragama
Bundala National Park, which neighbours Yala, is one of the best places for birdwatching in Sri Lanka, and is also home to sloth bears, elephants and deer.