Snapshot
Our Wildlife of Sri Lanka tour will put you in the hands of experts. The chauffeur-guide who will take you to some of Sri Lanka's most enchanting landscapes will have a speciality in wildlife and we will use expert guides whenever necessary as befits the relationships built up during a 20-year history as the leading specialist operator in Sri Lanka tailor-made holidays. On this tour you will discover why Sri Lanka was heralded as the finest safari destination outside Africa. Its attractions might be subtler, but our mix of endangered leopards, swimming elephants, camping under the stars, baby marine turtles, rainforest birds and whales and dolphins on the open seas makes this a tour to remember. Throw in some great hotels, good food, and a finale on a tropical beach or two and you have all the trappings of a memorable wildlife-based holiday. Red Dot champions Sri Lanka's natural landscapes and sustainability is at the core of everything we do. So go safari with Red Dot, in a way that only Sri Lanka can offer. And remember, all of Red Dot's itineraries can be customised any way you wish, both in terms of accommodation and duration.
Our Opinion
This wildlife tour will come with an specialist wildlife guide and that is just one reason why it has the edge over many rivals
PACKAGE INCLUDES
Accommodation in a shared double / twin room
Chauffeur-guide and vehicle for the duration of the tour (including leisure days)
Both airport transfers
Expert advice and support prior to and during the tour

TERMS & CONDITIONS
Price shown is a starting price and is subject to change, depending on travel dates / the number of people travelling etc.
Price shown is based on two people sharing a double / twin room
See our Booking Conditions for more details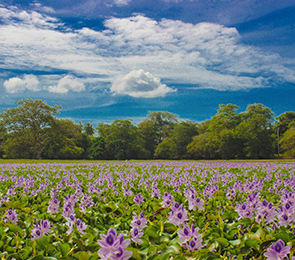 Day 1
Chillaw
Travel from the airport to the north-west coastal town of Chilaw, a journey of not much more than an hour. If you arrived on an early-morning flight, you can rest for a few hours and then visit the nearby Anawilundawa Wetland Sanctuary, a rare eco-system of coastal landscapes, mangrove forests and freshwater reservoirs. This is a haven for wildlife, especially bird species.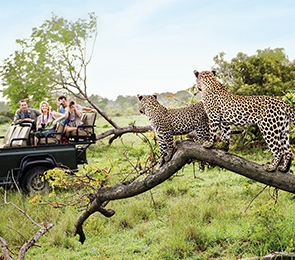 Day 2
Wilpattu, North-West Coast
Taking a half or full day's excursion in Wilpattu national park is an inviting way to set your wildlife holiday in motion. Wilpattu is one of the oldest and quietest Sri Lanka national parks and one of the most beautiful – a place to relax and enjoy the surroundings ahead of the pleasures to follow. Leopard spotting will be your chief target, but you may also see some of the other approximately 30 species of mammals in the Wilpattu National Park which include elephants, water buffalos, jackal, sloth beer, deer and monkeys.
Accommodation: The Ibis, Wilpattu
Recommended Activities: Wilpattu National Park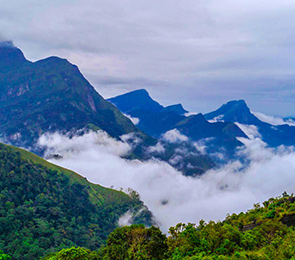 Day 3 & 4
Bobebilla, Kandy
Journey to the Knuckles Mountain Range, which lies east of the hill-country capital of Kandy. Named after its resemblance to the knuckles of a clenched fist, Sri Lanka's "misty mountains" attract few tourists. Trek beside tea plantations and paddy fields, through dense forests and rural villages, listening to the soothing sounds of rushing rivers and cascading waterfalls. You might see barking deer, mouse deer, wild boar, giant squirrel and monkeys.
Accommodation: Rangala House
Recommended Activities: Hike in the Knuckles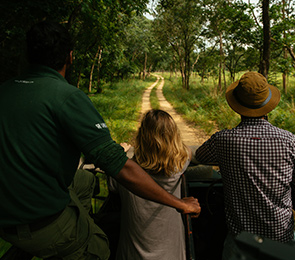 Day 5
Gal Oya National Park, East Coast
Today head further east to an even more remote part of the island – Gal Oya National Park. Your tranquil eco retreat for two nights is spread across a 20-acre forest edged by Gal Oya National Park and the Senanayake Samudraya, one of Sri Lanka's largest lakes. This lake is home to large herds of elephants: take an evening boat safari and, as the sun begins to set, watch elephants swimming between the tiny islands that are scattered across the reservoir.
Accommodation: Gal Oya Lodge
Recommended Activities: Gal Oya National Park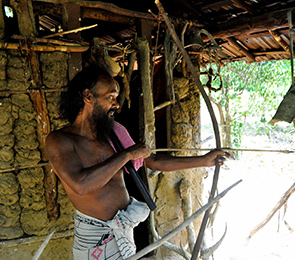 Day 6
Gal Oya National Park, East Coast
You can begin today with a unique experience – meeting the Veddas, Sri Lanka's aboriginal people. This area is one of the last remaining homes of the Vedda people, whose traditional lifestyles face tension with the mainstream way of living. On this nature walk with Gal Oya's Vedda chief you will see hunting weapons; witness how they gather honey, and listen to songs sung in their indigenous language. A unique insight into a declining culture. Finish your day with a late-afternoon game drive in the park, which contains elephants, water buffalo, deer, crocodile and numerous species of birds.
Accommodation: Gal Oya Lodge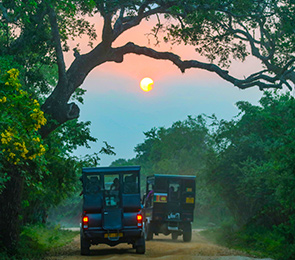 Day 7 & 8
Yala National Park, Yala
Yala National Park is one of the island's largest and most popular parks and is home to the greatest variety of Sri Lanka's wildlife. It boasts one of the world's densest leopard populations, but don't expect to see them prowling through the park in their thousands – there are still fewer than fifty in this area. Yala also houses elephants, sloth bear, sambar deer and spotted deer, wild boar, crocodiles, monkeys and buffalos, as well as a wide variety of different birds. Early morning or dusk safaris are ideal times to visit, when the animals come out to the waterholes.

Note: You can choose an upmarket camping option in Yala should you prefer. Live in the wilderness for two days, listen to the sound of bird call echoing through the trees, dine on traditional Sri Lankan cuisine and go on game drives twice daily into the park. The companies we use have experienced naturalists and follow strict eco-friendly policies.
Accommodation: Cinnamon Wild
Recommended Activities: Yala National Park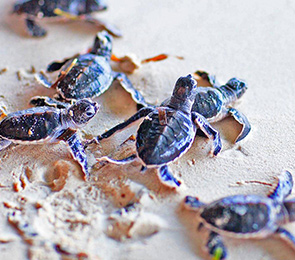 Day 9 & 10
Tangalle, South Coast
As you begin to join the south coast, stay near Rekewa so after nightfall you can visit the Turtle Conservation Project in Rekawa to witness the amazing process of marine turtles nesting. Globally, all seven species of marine turtles are endangered – out of these seven, five species come ashore to nest in Sri Lanka. The 'turtle watch' is an incredible opportunity to observe the remarkable nesting ritual of this endangered animal without interfering with its natural breeding habits. Take a beach break on your second day.
Accommodation: Buckingham Place
Recommended Activities: Rekawa Turtle Watch
Day 11
Sinharaja, Sinharaja & Kitulgala
Leave the wilderness of the Deep South behind and journey to Sinharaja, Sri Lanka's last remaining stretch of virgin rainforest. Prepare to be astounded as you trek through this mysterious jungle, which is so unlike the rest of the island it is hard to believe you are still in Sri Lanka. Overrun with startling exotic colours, Sinharaja is teeming with life from top to bottom. Make your way through this muggy wilderness (leech socks recommended today!) with the strange, musical accompaniment of gushing waterfalls, babbling streams and rustling leaves.
Accommodation: Rainforest Edge
Recommended Activities: Sinharaja Rainforest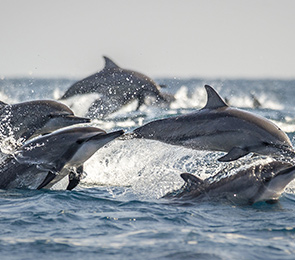 Day 12, 13 & 14
Ahangama, South Coast
Beach time – and your options are extensive as you spend your final three days relaxing on the golden sands of the South Coast or Galle Coast and soaking up some sun. Set off from Mirissa Harbour on your second morning in search of whales and dolphins – the waters around Sri Lanka's southern coastline are home to sperm whales, spinner dolphins and even the mighty blue whale. Go snorkelling, sailing, sea kayaking or take a surfing lesson, or visit Galle Fort.
Accommodation: Mosvold Villa
Recommended Activities: Whale Watching in Mirissa , Galle Dutch Fort , Take a Sri Lanka surfing lesson
Following are recommended optional activities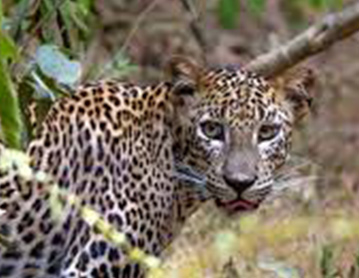 Wilpattu National Park
Wilpattu, North-West Coast
Wilpattu National Park is arguably Sri Lanka's most beautiful park. Its varying natural habitats – coastal belt, natural lakes, scrublands, open grasslands and dense forest – house numerous animals.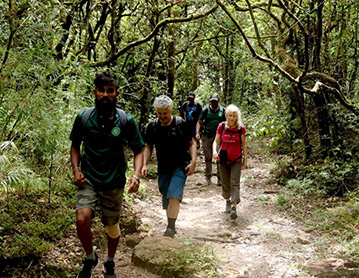 Hike in the Knuckles
Knuckles, Kandy
The Knuckles Mountain Range is perfect for hiking – a land of mystical peaks, chattering waterfalls and hidden hillside villages, with breathtaking visas and a remoteness that will appeal to experienced and novice hikers alike.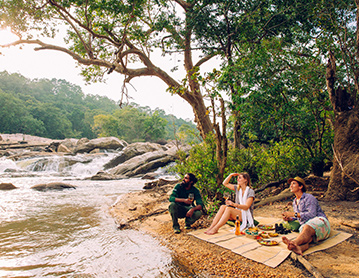 Gal Oya National Park
Gal Oya National Park, East Coast
Gal Oya is one of the most remote and stunning national parks in Sri Lanka. Inclusive of the largest reservoir in the island, take a boat safari at sunset as well as doing a morning game drive.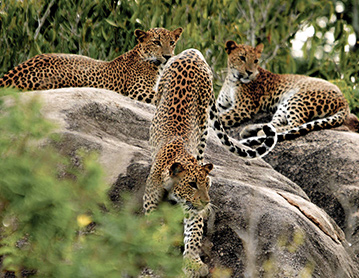 Yala National Park
Yala National Park, Yala
Yala National Park, situated in the south-east corner of the island, is home to the greatest variety of Sri Lanka's wildlife including the island's big game – elephants, leopards and sloth bears.
Rekawa Turtle Watch
Rekawa, South Coast
Five of the seven species of marine turtle come ashore at Rekawa to lay their eggs. Join the night watch to observe these fascinating creatures up close.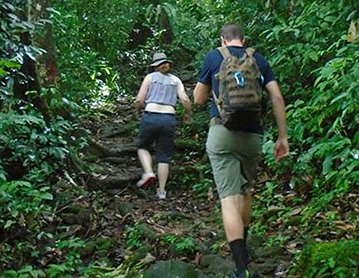 Sinharaja Rainforest
Sinharaja, Sinharaja & Kitulgala
Moist, murky and mysterious, an experience of Sinharaja is like nothing else in Sri Lanka. Trek through this magnificent landscape, the last surviving stretch of virgin rainforest on the island.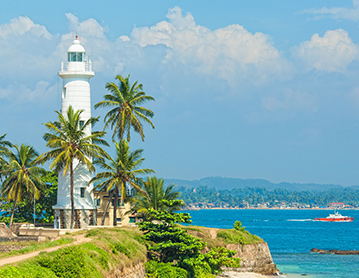 Galle Dutch Fort
Galle Fort, Galle Coast
Galle Fort, a UNESCO World Heritage Site originally built by the Portuguese before it was further developed by the Dutch and British, covers nearly 4sqkm and houses a range of old colonial buildings.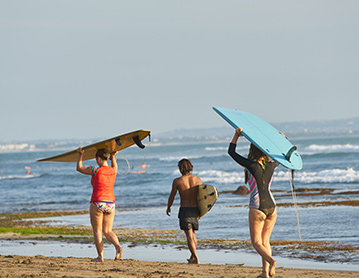 Take a Sri Lanka surfing lesson
Weligama, South Coast
Learn to surf the waves at Weligama Bay on Sri Lanka's blissful south coast with the extra assurance of your own instructor to guide you every step of the way. For beginners and those seeking to improve their style.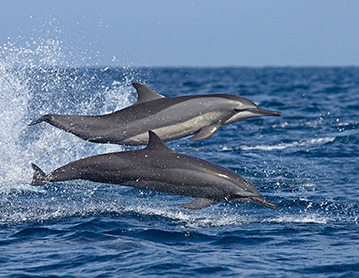 Whale Watching in Mirissa
Mirissa, South Coast
This modern catamaran complete with professional crew sets out from Mirissa Harbour at 6:30am, beating the other boats in order to have the best dolphin and whale sightings.