Snapshot
Travellers flock to Rajasthan in more numbers than any other part of India. Its fantastical palaces and huge forts stand as living monuments in an awe-inspiring desert landscape. The vivid colours of Rajasthan seen in cultural festivals, bright tribal dress and appealing handicrafts also leave a permanent impression. As ever, our commitment to tailor-made holidays means we can adjust this itinerary to please. Underpinning this tour, of course, are the three prongs of the Golden Triangle: the capital, Delhi, the pink city of Jaipur and, in Agra, the incomparable splendour of the Taj Mahal. If the most arid parts of Rajasthan – in particular a camel trek in the Thar Desert – do not appeal, check out our Green Rajasthan itinerary.
Our Opinion
Red Dot's Classic Rajasthan tour is a 15-day itinerary which seeks to explore the best of Rajasthan, without over-taxing tourists with too much travel in what is India's largest state.
Don't Miss
The enduing beauty of the Taj Mahal
Historic forts clinging to rocky outcrops
Beautiful royal palaces
A camel safari across the Thar desert
The abandoned city of Fatehpur Sikri
A boat ride by the beautiful lakeside city of Udaipur
The extraordinary Rat Temple at Deshnok
Shopping for bargains in Rajasthan's colourful bazaars
PACKAGE INCLUDES
Accommodation in a shared double / twin room
Chauffeur-guide and vehicle for the duration of the tour (including leisure days)
Both airport transfers
Expert advice and support prior to and during the tour
TERMS & CONDITIONS
Price shown is a starting price and is subject to change, depending on travel dates / the number of people travelling etc.
Price shown is based on two people sharing a double / twin room
See our Booking Conditions for more details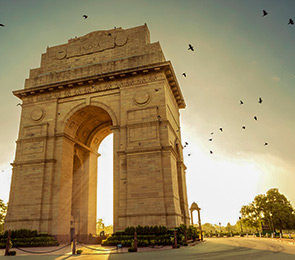 Day 1 & 2
Delhi
India's capital seeks a stately atmosphere suitable to the seat of government and despite suffering from the usual melee it occasionally achieves it. These days a new metro allows you to escape some of the traffic and knit together its must-see sites. There is much worth your attention, led by Humayan's Tomb, the tomb of a Mughal empire and impressive enough for Barack Obama to visit; Gandhi Smriti, a simple memorial to Mahatma Gandhi where the room and possessions he was using when he was assassinated have been caringly preserved; and much more. You can find time, too, for Qutub Minar, one of Delhi's most stunning monuments, stretching back to 1193; the stunning Akshardham Temple, built entirely of Rajasthani pink sandstone and Italian Carrara marble; and the modern Lotus Temple, regarded by some as the epitome of cool. Also in Delhi, you could visit a Sound & Light Show at Red Fort.
Accommodation: Vivanta Dwarka / Radisson Blu Dwarka
Recommended Activities: Humayan's Tomb, Gandhi Smriti, Qutub Minar, Akshardham Temple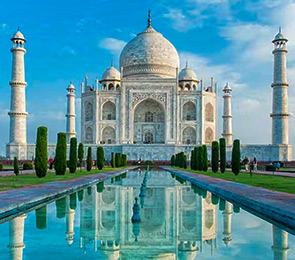 Day 3
Agra
Time to catch the early-morning train to Agra, where the Taj Mahal – the greatest monument to romanticism the world has ever seen – awaits. We recommend a rail transfer, but you can journey by car if you wish. It is particularly moving to see the Taj Mahal at night on one of the Full Moon days (even if five are claimed per month!). Numbers are limited at this time. Such a glorious sight should not be the subject of a rushed day trip, especially when there are other attractions around Agra so we recommend that you stay the night nearby. Mehtab Bagh lies north of the Taj Mahal complex and the Agra Fort on the opposite side of the Yamuna River, in the flood plain. The garden complex is perfectly aligned with the Taj Mahal on the opposite bank. If you missed a Son-et-Lumiere show in Delhi, you could experience one at Agra Fort, or take in a display of Kalakriti dance.
Accommodation: Hotel Grand Imperial
Recommended Activities: Taj Mahal, Agra Fort Son-et-Lumiere show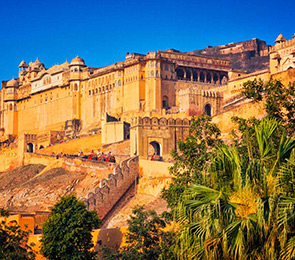 Day 4
Jaipur
There is much to see this morning on the four-hour journey west from Agra to the Pink City of Jaipur – the third leg of the Golden Triangle. You could break the journey with excursions to Akbar's Mausoleum, a sandstone and marble tomb commemorating the most powerful Mughal ruler of all, which lies 10 kms north-west of Agra. And, 40 kms west of Agra, Fatehpur Sikri, a deserted fortified city, built by Mughal emperor Akbar in the 16C but abandoned soon after when local wells ran dry, remains wonderfully preserved. See stunning palaces and mosques as you journey back in time at this remarkable UNESCO World Heritage Site. Arrive in Jaipur in time for a leisurely evening meal.
Accommodation: Alsisar Haveli / Shahpura House
Recommended Activities: Akbar's Mausoleum, Fatehpur Sikri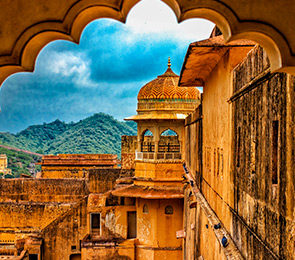 Day 5
Jaipur
The Pink City of Jaipur (actually closer to salmon) is Rajasthan's most tourist-orientated city, with good shopping opportunities and a city which never needs much excuse to hold a festival. A tough choice awaits you about what you wish to see on your day in the city. The City Palace is open to the public as the Sawai Man Singh Museum. Check out the armoury, with its large collection of mace, daggers, shields and other implements of war. The textile collection shows off the royal wardrobe and is rather less threatening. The ponds of the Galta Monkey Palace, crammed into a ravine 3 kms east of Jaipur, provide home for thousands of macaque monkeys. Jantar Mantar Observatory, begun by Jai Singh in 1728, lies next to the Royal Palace and was added to the list of World Heritage Sites in 2010. Perhaps most recommended of all is Amber Fort, a wonderful honey-coloured fort on a rocky mountainside 12 kms north-east of Jaipur.
Accommodation: Alsisar Haveli / Shahpura House
Recommended Activities: Sawai Man Singh Museum, Galta Monkey Palace, Jantar Mantar Observatory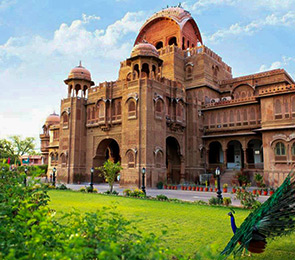 Day 6
Bikaner
The Shekhawati region in Northern Rajasthan holds appeal for the beauty of its old havelis - mansion houses. Homes were adorned with wonderful murals depicting religion, mythology and day-to-day life. The colours in the paintings were once achieved from ochre-coloured urine obtained by feeding cows on mango leaves. Travel throughout the morning to Bikaner, a lively desert town with a good vibe and a decent fort, Junagarh Fort to the north-east, which unusually does not have an elevated position, but has an interesting palace and museum. The landscape becomes sparser as you travel towards the edge of the Thar Desert. Bikaner, indeed, is a potential alternative to Jaisalmer for a camel safari if this is as far west as you prefer to go. (You could even cut time on the road further by going from Bikaner to Jodhpur by train: just let us know your preference).
Accommodation: Narendra Bhawan / Lallgarh Palace
Recommended Activities: Shekhawati havelis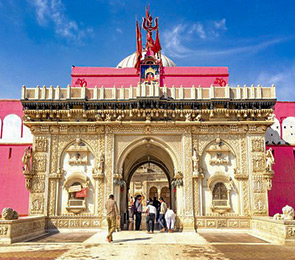 Day 7
Deshnok
Another night in Bikaner offers a chance in the afternoon to journey another 30 Kms South to Deshnok to see one of the most bewildering sights in the world. The Karni Mata Temple – more commonly known as The Rat Temple –allows rats to run free in their thousands. They are worshipped by pilgrims in the belief that they are reincarnations of Karni Mata, who was said to achieve miracles in the 14C, and her direct descendants. Eating holy good offerings covered in rat saliva, incidentally, is said to bring a traveller good fortune, but don't worry: it is not compulsory.
Accommodation: Narendra Bhawan / Lallgarh Palace
Recommended Activities: Karni Mata Temple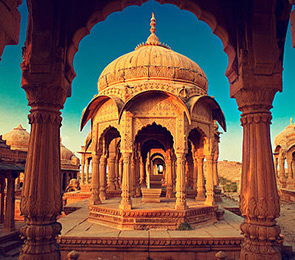 Day 8
Jaisalmer
Red Dot's Classic Rajasthan tour is designed to find the right balance between sightseeing and travel – we find some of the tourist coach dashes hard to understand – but there is no way to dress it up: this is an arduous travel day which realistically can be expected to take 6-7 hours. But you travel with a strong sense of expectation because there is much to look forward to once you reach the famous desert town of Jaisalmer. Indeed, if you want to preserve just one image to convey the world of the Rajasthan desert, the fort at Jaisalmer must be among the contenders, rising surreally from the scrubby plains like a series of giant sandcastles. We recommend a glamping experience for your next stop, but if you wish, you can opt for a safari night under the stars here at one of the well-appointed sites around Sam Sand Dunes.
Accommodation: WelcomHeritage Mandir Palace / Soonar Haveli
Recommended Activities: Jaisalmer Fort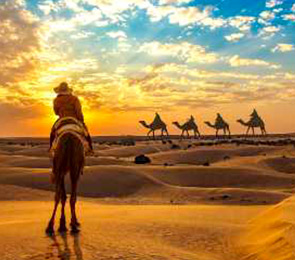 Day 9
Desert Safari
The attraction for most visitors to Jaisalmer and the Thar desert in the west of Rajasthan is the chance to undertake a camel safari. This unforgettable experience can extend anything from a few hours to several weeks, The one-humped camel moves it front legs, then back legs, together, giving it a smoother, more rolling gait than a horse. Trekking across the desert gives a valuable insight into desert life. Tented accommodation includes attached toilet/bath, and provides a Jeep and Camel Safari desert experience, with evening entertainment over dinner. We recommend the camel safari at Manvar Desert Camp, which nearly breaks the journey en route to Jodhpur. Otherwise, continue a few more hours to Jodhpur.
Accommodation: Manvar Desert Camp (or Jodhpur hotel option)
Recommended Activities: Camel Safari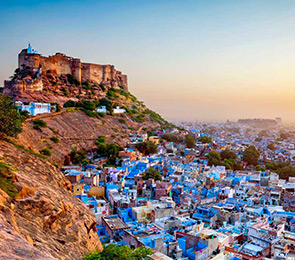 Day 10 & 11
Jodhpur
Head east, away from the Thar Desert. If you are full of vigour and ambition, and rise soon after dawn, a detour to the Osian temple en route is worthwhile. Jodhpur, the second largest city in Rajasthan, sits beneath the walls of the Mehrangarh Fort, which makes its mesmerising way for 10 kms above the town, and which is regarded by many as Rajasthan's finest. Inside the Blue City is a web of narrow medieval streets with all the bustle and colour that Rajasthan can provide. Shopping in the bazaars is fun here. Umaid Heritage Art School is a more laid-back spot where you can try the art of traditional Rajasthani miniature art. Umaid Bhawan Palace offers a museum with vintage clocks, classic cars, murals and miniature paintings. If cooking, not art, is your thing, Spice Paradise will teach you the art of Indian cuisine. Balsamand Lake and Gardens, Mandore Road, are large and well maintained.
Accommodation: Ajit Bhawan / WelcomHeritage Bal Samand Palace
Recommended Activities: Mehrangarh Fort, Umaid Bhawan Palace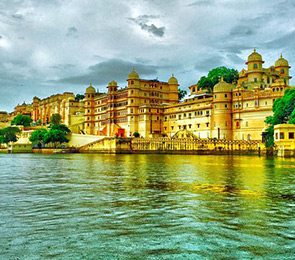 Day 12 & 13
Udaipur
Udaipur, the City of Lakes, is one of India's most beautiful cities. It is a place for romance, with creamy-white palaces sitting alongside Lake Pichola, pretty old havelis (mansions) on winding streets, and exotic hotels. The marble palaces, gentle gardens and placid waters transport make up an enchanting combination. Escape the tourist bustle and enjoy it at its best with a boat trip on the lake, a wander through the bazaar, or by exploring the countryside beyond. You can even take a horse ride around the surrounding hills and lakes. The City Palace overlooks the lake; it took more than 400 years to be completed and is the largest in the State. Jagdish Temple may also appeal. Further on are the Sahelion ki Bari gardens, with its delicately carved kiosks and fountains.
Accommodation: Fateh Garh
Recommended Activities: City Palace, Jagdish Temple, Lake Pichola Sunset Cruise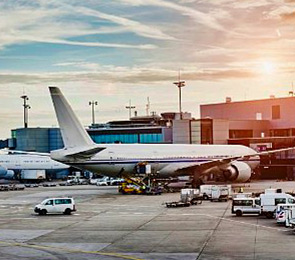 Day 14
Airport transfers
Udaipur airport links with Delhi and Mumbai and is a convenient way to end a remarkable holiday.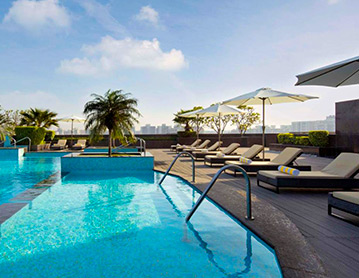 Radisson Blu Dwarka
Delhi, NCT
Situated in Dwarka, just a 20-minute drive from the commercial hub of New Delhi. Its multitude of facilities includes 3 dining options, a nightclub, on-site shopping mall with a supermarket, salon, fitness centre and indoor games facility.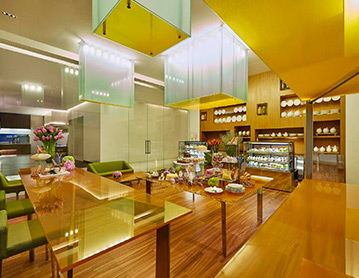 Vivanta Dwarka
Delhi, NCT
Vivanta New Delhi, Dwarka is one of the best hotels near New Delhi airport. It has all the facilities you would expect from an upmarket chain hotel, including two restaurants, a spa and a fitness centre. A 20-minute drive eastward leads you to the heart and soul of the city – Lutyens' New Delhi.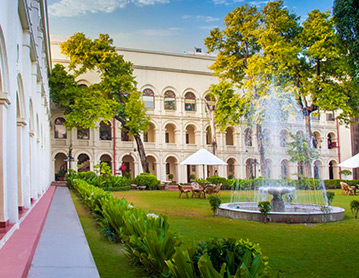 Hotel Grand Imperial
Agra, Uttar Pradesh
The Grand Imperial Hotel in Agra is a boutique heritage hotel and the only genuine century-old heritage hotel operating in Agra. Thirty luxury rooms with period furniture in the heart of Agra, plus pool, health club and spa.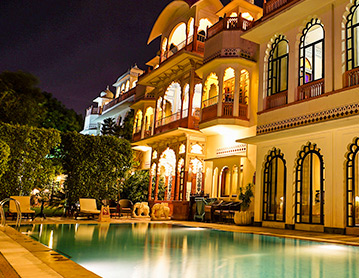 Hotel Shahpura House
Jaipur, Rajasthan
This well-maintained 64-room heritage hotel, in traditional Rajput style, benefits from a quiet residential area of Jaipur, and is owned by an aristocratic family who value its history. Large pool, spa and wellness centre and unashamedly decorative rooms and public areas.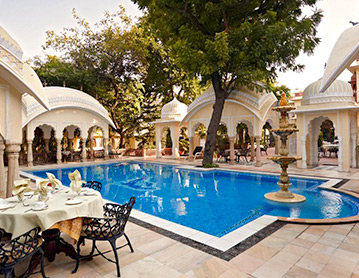 Alsisar Haveli
Jaipur, Rajasthan
A dramatic façade opens to a large and well-appointed courtyard with a central fountain that feels like an oasis of calm and old-world charm. This luxury hotel with 45 guest rooms, outdoor pool and spa, was once a vacation mansion for a rich Indian family.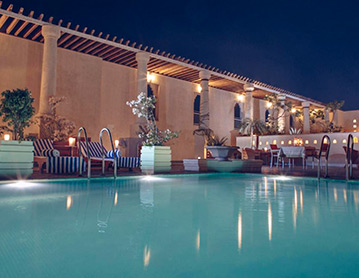 Narendra Bhawan
Bikaner, Rajasthan
Narendra Bhawan is a heritage property that housed the last reigning Maharaja of Bikaner and possesses an infinity pool, spa and games room.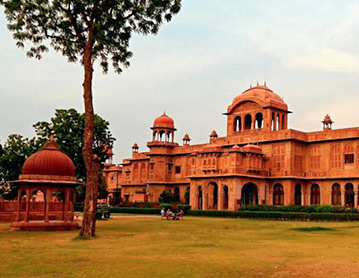 Lallgarh Palace
Bikaner, Rajasthan
Lallgarh Palace is among the most striking royal residences built in India in the 19C – a mix of Mughal and Rajput traditions down to British additions of billiards and card rooms. Two wings are now a luxury heritage hotel with modern conveniences, lavish gardens, indoor pool and an unremitting sense of history.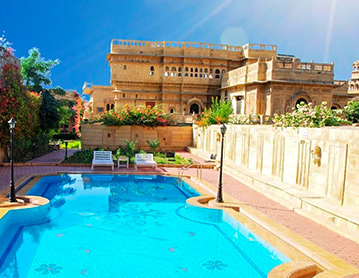 WelcomHeritage Mandir Palace
Jaisalmer, Rajasthan
WelcomHeritage Mandir Palace is a 200-year-old palace that built during the reign of Maharawal Jawahir Singh. Facilities include a pool and restaurant. Within a 15-minute walk of Bhatia Market and Jaisalmer Fort.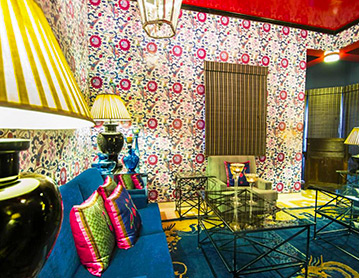 Soonar Haveli
Jaisalmer
Sonaar Haveli is a contemporary boutique hotel five minutes from Jaisalmer city centre. It comprises eight rooms, a spa and two restaurants. A rooftop terrace has stunning views of the city, and it offers a traditional Rajasthani restaurant.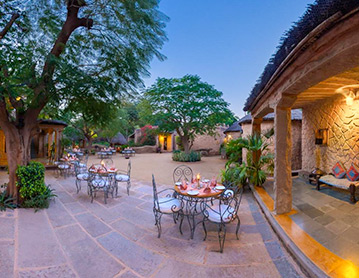 Manvar Desert Camp
Manvar, Rajasthan
Manvar Desert Camp offers a/c cottages and a swimming pool in the heart of Rajasthan. Every evening after sunset there is cultural programme with traditional musicians and dancers. Open October to April.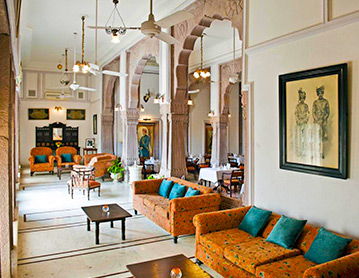 WelcomHeritage Bal Samand Lake Palace
Jodhpur, Rajasthan
WelcomHeritage Bal Samand Lake Palace, built in red sandstone in Rajput architectural style, overlooks the astoundingly clear Balsamand Lake, only 5kms from Jodhpur. This 36-room hotel has a pool and restaurant and is set in 60 acres of manicured lawns, orchards and flower gardens.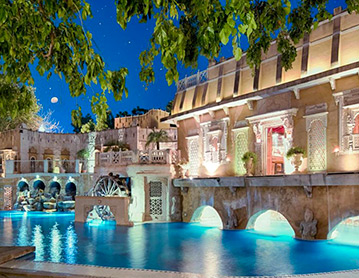 Ajit Bhawan
Jodhpur, Rajasthan
Ajit Bhawan Palace, built in the 1920s, offers modern and stylish accommodation in a grand setting. Facilities include an outdoor pool and restaurant. Conveniently situated in the High Court part of Jodhpur.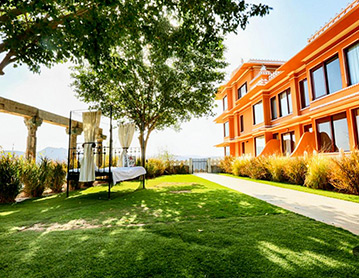 Fateh Garh
Udaipur, Rajasthan
This graceful property is a short drive out of the city and provides a tranquil retreat after a busy day. A quality hotel with large, characterful rooms, attractive pool, good quality spa and a stunning aspect in the hills.
Following are recommended optional activities