Snapshot
The Sri Lanka Guesthouse Explorer allows you to experience the many attractions of Sri Lanka on a tight budget. We've selected some of our favourite small properties - charming guesthouses in scenic locations, with friendly and helpful staff. We might be clamping down on costs in keeping with our conviction that tailor-made holidays can also be designed for travellers on lower budgets, but the tour itself is packed with variety, encompassing the Cultural Triangle, majestic mountain peaks, game parks, tropical beaches and cramming in a brief visit to the genial capital Colombo at the end of the tour.
Our Opinion
An old favourite that emphasises Red Dot's commitment to unearthing the best affordable, smaller accommodation on the island
Don't Miss
Experience one of the world's great train journeys
Climb the Sigiriya Rock Fortress in the cultural triangle
Take in the breathtaking views at Horton Plains
Walk amid the Sri Lanka hill country
Watch herds of wild elephants roaming freely at Uda Walawe
Learn to surf in Weligama
Explore Galle's 17C Dutch Fort
PACKAGE INCLUDES
Accommodation in a shared double / twin room
Chauffeur-guide and vehicle for the duration of the tour (including leisure days)
Both airport transfers
Expert advice and support prior to and during the tour

TERMS & CONDITIONS
Price shown is a starting price and is subject to change, depending on travel dates / the number of people travelling etc.
Price shown is based on two people sharing a double / twin room
See our Booking Conditions for more details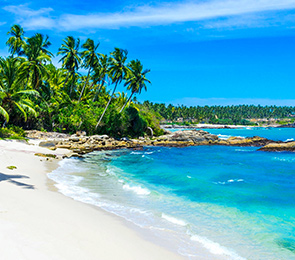 Day 1
Katunayake, North-West Coast
Arrive at Bandaranaike International Airport and take a short transfer to your initial accommodation to rest up after the flight. The beach resort of Negombo is a short distance away and, if you are in the mood for some activity, offers an immediate chance to adjust to the time difference and warmer temperatures in a beach bar or restaurant. Get a taste of Sri Lankan life by visiting the Negombo fish market or the local churches in a town which have a strong Catholic influence.
Accommodation: Randoni Villa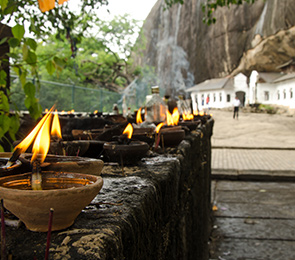 Day 2 & 3
Sigiriya, Cultural Triangle
Today you head north-east to Sri Lanka's Cultural Triangle where you have a host of activities to choose from. It is amid the ruins of ancient cities, rock fortresses and cave temples where Sri Lanka's history comes alive. Choose from our wide range of activities in the Cultural Triangle so we can tailor your itinerary exactly to your liking and you can make the best use of your time. If you are particularly intrigued by the history of this evocative region we strongly recommend you add a third night here.
Accommodation: Elephas Resort
Recommended Activities: Minneriya National Park , Sigiriya Rock Fortress , Polonnaruwa , Dambulla Cave Temple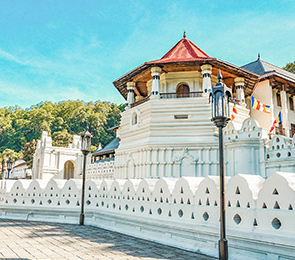 Day 4 & 5
Kandy
The journey from the Cultural Triangle to Sri Lanka's hill capital – the small lakeside city of Kandy – will occupy most of the morning. On the way, visit the ancient Aluvihara Rock Temple, located in Matale, or have a guided tour of a spice farm. Explore the city of Kandy, steeped in history and culture. Walk around the tranquil Kandy Lake and visit the Temple of the Tooth which has a sacred tooth relic of the Lord Buddha enshrined here since 4th Century A.D. During August, Kandy dazzles with the sounds and lights of the Kandy Perehara.
Accommodation: Hanthana House
Recommended Activities: Kandy Temple and City Walk , Aluvihara Cave Temple , Kandy Restaurant Guide , Royal Botanical Gardens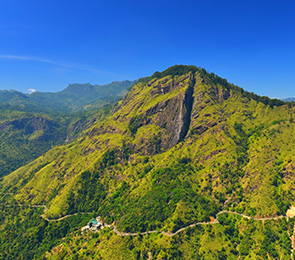 Day 6 & 7
Bandarawala, Hill Country
Today you journey to the southern highlands, a stirring land of lush tea plantations, majestic peaks and rushing waterfalls. We recommend you jump aboard the train – one of the great rail journeys in the world. Your driver will transport your luggage by car. Several treks are possible, to Little Adam's Peak, the ancient Dhowa Rock Temple, Ravana caves and several of Sri Lanka's finest waterfalls. Visit a nearby tea factory. Explore the towns of Bandarawala and Haputale.
Accommodation: Roseland Cottages
Recommended Activities: Dhowa Rock Temple , Sri Lanka Waterfalls , Little Adam's Peak , Kandy to the Hill Country by train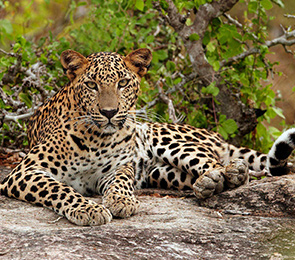 Day 8 & 9
Tissamaharama, Tissa & Kataragama
Journey on to the south east of Sri Lanka. Visit Buduruwagala to see Sri Lanka's tallest rock-cut Buddha statue before reaching the southern town of Tissamaharama, the capital of the ancient Ruhunu Kingdom in the 2C B.C. Tissa, named after King Kavantissa, is dominated by lakes and gigantic semi-circle shaped Buddhist Dagobas. The sprawling Tissa Wewa was built by King Kavantissa 2,300 years ago. The sacred jungle shrine of Kataragama is located nearby. Explore the jungle of Yala – one of the best National Parks to see a wide variety of Sri Lankan wildlife because of its scrub plains, lagoons and rocky sections. Yala is home to herds of wild elephants, leopard, sloth bear, sambar, spotted deer, wild boar, crocodiles, monkeys and numerous species of birds.
Accommodation: Hibiscus Garden
Recommended Activities: Buduruwagala , Kataragama , Yala National Park , Tissamaharama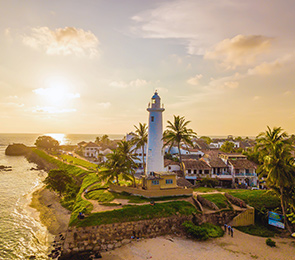 Day 10, 11 & 12
Mirissa, South Coast
Journey along the south coast towards the historic city of Galle for some well-deserved beach days. Water-sports and whale spotting expeditions depart from Mirissa from December to April when the seas are calm. The south of Sri Lanka beyond Dondra is considered one of the best locations in the world for spotting blue whales, sperm whales and spinner dolphins. We also recommend a visit to Galle's 17C Dutch Fort, with its sturdy ramparts looking out to sea, a lighthouse and narrow streets lined with colonial-era buildings which now house a collection of art galleries, shops, cafes and boutique hotels and villas.
Accommodation: Villa Oceane
Recommended Activities: 6 Best Water-Sport Activities in Sri Lanka , Whale Watching in Mirissa , Galle Dutch Fort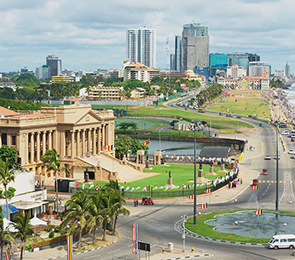 Day 13
Colombo
Still time for a quick visit to the genial capital of Colombo, a convenient stopover en route to the airport the following day. Colombo might not be the most famous capital in this part of the world, but it is definitely one of the most manageable and it is easy to fall in love with its relaxed atmosphere, secret hideaways and collection of bars and restaurants. We also have a selection of tours of the capital for your delectation.
Accommodation: Dolce Casa
Recommended Activities: Colombo Restaurant Guide , Colombo Guided Walk - Religion and Culture