Snapshot
Discover the far north of Sri Lanka with our Sri Lanka's Northern Heritage tour, journey through varied landscapes and discover Jaffna's renewed ambition. The Kalpitiya peninsular and the white sands of Nilaveli provide some escapist beach days and the ancient kingdom of Anuradhapura offers a taste of Sri Lanka's ancient culture. Nature lovers might wish to travel during the migrant birding season from October to March when the Jaffna and Mannar lagoons are lined with pink flamingos and numerous other birds. Share in the reawakening of this resilient region which is coming alive once more.
Our Opinion
Sri Lanka's north is beginning to reawaken and this carefully-crafted tour with a cultural emphasis is a show of faith in a better future
Don't Miss
Lie on the palm-fringed beaches of Alankuda
Go whale and dolphin spotting off the north-west coast of Kalpitiya
Explore the ancient kingdom of Anuradhapura
Visit Hindu kovils and colonial-period churches in Jaffna
Visit glorious East Coast beaches
Watch graceful wild horses on Delft island
PACKAGE INCLUDES
Accommodation in a shared double / twin room
Chauffeur-guide and vehicle for the duration of the tour (including leisure days)
Both airport transfers
Expert advice and support prior to and during the tour

TERMS & CONDITIONS
Price shown is a starting price and is subject to change, depending on travel dates / the number of people travelling etc.
Price shown is based on two people sharing a double / twin room
See our Booking Conditions for more details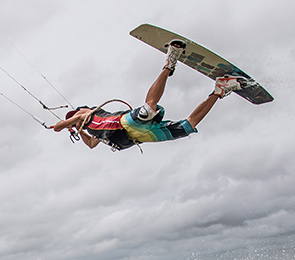 Day 1 & 2
Kalpitiya, North-West Coast
From your pick up at the airport transfer straight to Kalpitiya on the north-west coast (approximately three hours away) for the first three nights of your holiday. Kalpitiya offers beaches untouched by mass tourism, picturesque lagoons and a wide range of water-sports including kite-surfing and windsurfing. The waters around Kalpitiya are home to dolphins, whales, sting rays and marine turtles: go on a whale and dolphin watching expedition with strong ethical credentials or snorkel around the coral reefs and spot plenty of colourful tropical fish. Relax on the quiet beaches and enjoy some spectacular sunsets.
Accommodation: Khomba House
Recommended Activities: Kitesurfing in Sri Lanka , Windsurfing in Sri Lanka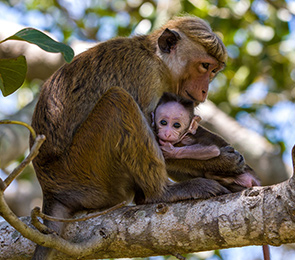 Day 3
Wilpattu National Park, North-West Coast
Spend today in Wilpattu National Park. Wilpattu is one of Sri Lanka's largest and oldest wildlife parks – as well as the most beautiful - and has a wide range of habitats, from the coastal belt and lakes to open grassy plains and thick forest. Spot leopards, water buffalo, crocodiles or kingfishers. As Wilpattu is positioned away from the common tourist trails, an entire day of safari can pass in splendid isolation.
Accommodation: Forest Rock Garden
Recommended Activities: Wilpattu National Park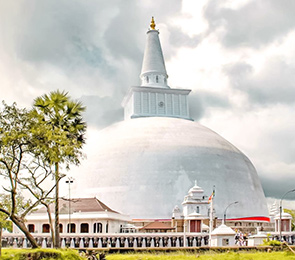 Day 4
Anuradhapura, Cultural Triangle
Travel to the Cultural Triangle where you can visit the famous ruins of Anuradhapura – Sri Lanka's first capital, and the greatest monastic city of the ancient world, ruled from the 4C BC to the 11C by more than 100 Sri Lankan kings.
Accommodation: Forest Rock Garden
Recommended Activities: Anuradhapura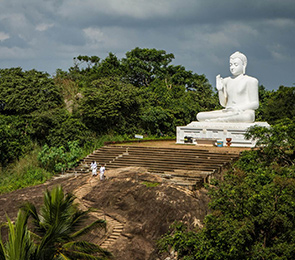 Day 5
Mannar, North-West Coast
Just 13km away from Anuradhapura is Mihintale, one of Sri Lanka's most significant religious sites where Buddhism originated on the island in 247 BC. This is a great morning activity en route to your end point, Mannar Island, a lightly-visited spot and one of the great gathering spots for migratory birds in Sri Lanka. This is the closest point in Sri Lanka to India where the countries were once connected centuries ago by a series of small sandy islands known as Adam's Bridge. Also take time to visit the ruins of Mannar Fort which was built by the Portuguese in 1560 and which can be eerily quiet in the late afternoon sunshine.
Accommodation: Palmyrah House
Recommended Activities: Mihintale , Birdwatching on Mannar Island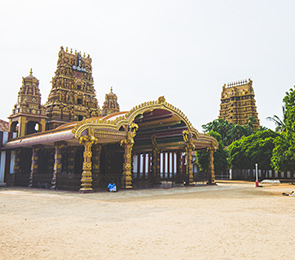 Day 6 & 7
Jaffna
Transfer to Jaffna and the northern tip of Sri Lanka. Explore Jaffna town where sacred Hindu kovils dedicated to various gods are found on every street corner. Visit the ruins of Jaffna Fort and explore the heritage sites such as the ancient Naguleswaram Kovil, hot springs of Keerimalai and the ruins of Kantharodai Buddhist temple. To the west there is the Casuarina Beach, Fort Hammenhiel and birdwatching on the Jaffna to Karainagar causeway. During the migrant birding season from September to March, water birds in their thousands line the Jaffna lagoon: a spectacular site not to be missed.
Accommodation: The Thinnai
Recommended Activities: Nallur Kandaswamy Kovil , Jaffna Dutch Fort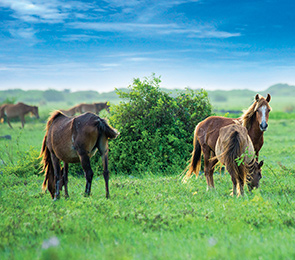 Day 8
Jaffna
The more adventurous might wish to make full use of a stay in Jaffna by spending a day out in Delft Island, a remote and charming island where wild horses graze the barren plains. Otherwise, visit the nearer island of Nainativu, home to the historic Nagadeepa Buddhist temple and the Naga Pooshani Ambal kovil.
Accommodation: The Thinnai
Recommended Activities: Jaffna Islands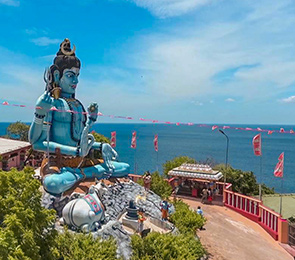 Day 9, 10 & 11
Trincomalee, East Coast
One of the oldest cities in Asia, Trincomalee has historically been an important trading port due to its large natural harbour. The British once called it "the most valuable colonial possession on the globe". A few miles to the north are the glorious sands of Nilaveli, where the weather is at its most glorious for sun worshippers from June to September. This is Sri Lanka's equivalent to the Maldives: never-ending white sandy beaches and shimmering blue seas.
Accommodation: Nilaveli Beach Resort
Recommended Activities: Sailing in Trincomalee or Pasikudah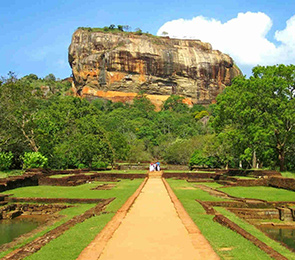 Day 12
Dambulla, Cultural Triangle
Wind your way south west as you make a quick return to the Cultural Triangle. Climb the Sigiriya Rock Fortress, built in the 5C by King Kasyapa. The ruins of the fortress, the wall frescoes, and the symmetrical royal gardens surrounding the rock are amazing feats of this period. Visit Dambulla's ancient cave temple. Its rock ceiling is one large sweep of colourful frescoes, some of which date back more than 2,000 years, depicting Buddhist mythology and the tales of the Buddha's previous births. This cave temple has the largest number of Buddha statues housed in one place.
Accommodation: Jetwing Lake
Recommended Activities: Dambulla Cave Temple , Sigiriya Rock Fortress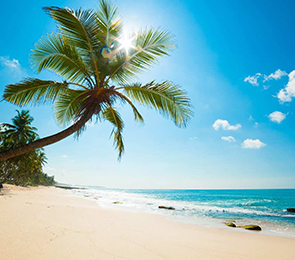 Day 13
Kotugoda, North-West Coast
Journey close to Colombo's international airport for your final night's stay.
Accommodation: The Wallawwa