The creative arts are an inherent part of Sri Lanka's ancient cultural heritage: the dancer, drummer, musician, artist and the craftsman all continue to contribute significantly to Sri Lanka's vibrant culture. There are many opportunities to explore the arts in Sr Lanka during your holiday: see a traditional dance show; purchase some authentic crafts; visit the art galleries in Colombo; explore the murals and paintings of historic temples, or attend the annual Galle Literary Festival which was listed by Harpers Bazaar as one of the six most appealing literary festivals in the world.
Sri Lanka's art history dates back more than 2,000 years, stemming from ancient temple paintings and rock sculptures of Lord Buddha. Visit Dambulla Cave Temple and marvel at the ancient statues and colourful frescos which adorn the ceilings, or do the 'Three Temple Loop' in Gampola and see various stunning examples of Kandyan art. Contemporary Sri Lankan art can be explored in Colombo: wander round the National Art Gallery, and explore the abstract artwork displayed at the Saskia Fernando Gallery.
Traditional Sri Lankan crafts are vital industries in many parts of the island, and include: drum making; mat weaving; handloom; wood carving and mask making. Try your hand at mask making at a workshop with an artist in Galle Fort, or visit Barefoot, one of Sri Lanka's most prominent arts and crafts shops, to explore a range of authentic and contemporary crafts which make beautiful souvenirs or gifts.
Traditional dance forms in Sri Lanka date back to the 4th century BC and were initially associated with rituals and ceremonies performed for purposes of expelling sickness and misfortune, or for blessings. Several classical dance types evolved over the centuries, slightly varying between each region of the island. Three main dance styles are now performed – Kandyan, Sabaragamuwa (central province) and Ruhunu (low country) – all of which differ in dress, drum rhythms, movements and songs, as they are based on local folklore. See a Kandyan dance show, or watch the Kandy Esala Perahera, a glorious procession with scores of elephants dressed in glittering cloaks, dancers and musicians, which is recognised as one of Asia's best cultural pageants.
Ambalangoda Art Tour
Ambalangoda, Galle Coast
Accompany an award-winning craftsman on a fast-paced tour of traditional art workshops in Ambalangoda, before visiting a local temple which houses Asia's largest reclining Buddha statue.
Duration: 3 hours
Best time: Year-round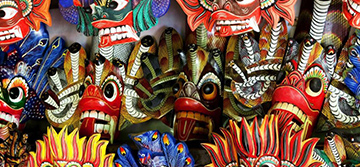 Ariyapala Mask Museum
Ambalangoda, West Coast
Traditional masks have played an important role in Sri Lankan culture and folklore for centuries, Used for both theatrical performances and traditional rituals.
Duration: 1 hour
Best time: Year-round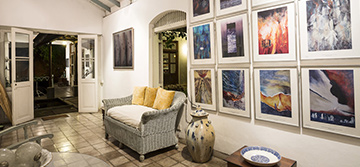 Colombo Artist in Residence
Colombo
Spend time in the studio and gallery at the home of a globally-exhibited Colombo artist and learn about the evolution of her artistic career.
Duration: 2 hours
Best time: Year-round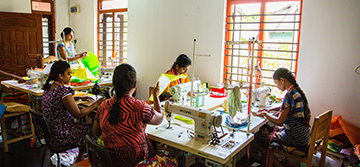 Explore eco-minded Arugam Bay
Arugam Bay, East Coast
In Arugam Bay, various eco-minded groups have emerged within the community itself to preserve the pristine environment of the laid-back beach town.
Duration: 2 hours
Best time: Year-round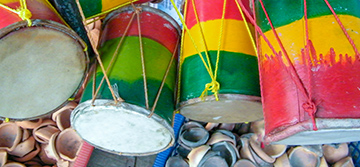 Play a Sri Lankan drum
Kandy
Sri Lanka resonates to the sound of drumming, and with the help of Red Dot, a teacher from a long line of professional drummers can reveal the basics of how to play as well as understand the history and importance of drums in Sri Lanka.
Duration: 3 hours
Best time: Year-round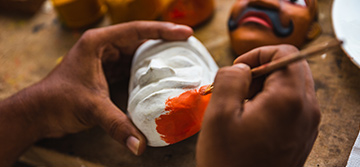 Mask-Making Workshop
Galle Fort, Galle Coast
A hands-on workshop which introduces you to the use of masks in Sri Lankan culture and demonstrates the stages of traditional mask carving from start to finish as you attempt to make one yourself.
Duration: 3 hours
Best time: Year-round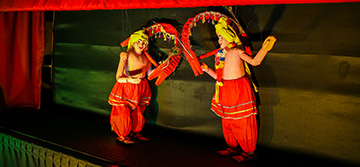 Sri Lankan Puppets
Balapitiya, West Coast
The traditional folk theatre of Sri Lankan puppetry was a major form of entertainment in old Ceylon.
Duration: 2 hours
Best time: Year-round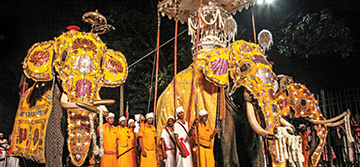 Kandy Perahera
Kandy
A `Perehara' is a cultural procession, an ancient historic ritual where tradition, religion, and the arts all come together. The annual Kandy Perahera is an astonishing spectacle.
Duration: 2 hours
Best time: July / August