Sri Lanka's wildlife is as varied as the island itself, ranging from elephants and leopards to marine life and a vast number of different birds, and Sri Lanka is now one of the best places in the world to see whales, including the mighty blue whale. With 12% of the country designated for wildlife protection, it is easy to get a taste of Sri Lankan wildlife: safari parks and sanctuaries, particularly in the southern and central zones, offer the easiest way to see animals in their natural habitat. Stay alert for a sighting of the endangered leopard; take your time as you watch the elephants feeding and washing in a tank or lagoon, or walk quietly along the beaches of the west and south coast near to marine turtles as they lay their eggs.

Birds of Sri Lanka
Birdwatching in Sri Lanka is a delight for birders. The island's isolation and tropical climate are responsible for attracting an incredibly diverse range of birds of more than 400 species. Almost 200 migrant species descend on the country each year having flown south for the winter, and there are 33 endemic birds in Sri Lanka. For more information, see our page on birdwatching in Sri Lanka.

Mammals
102 terrestrial mammals have so far been discovered on the island. 90 of them are indigenous species, of which 14 are endemic to Sri Lanka. Mammals are extensively distributed in the country due to the diverse climate, vegetation, altitude and geographic history of the island. Many travellers come to Sri Lanka hoping to see elephants, the island's most iconic animal – visit one of the national parks and see them moving in herds in the wild, or visit the Millennium Elephant Foundation to learn more about the role elephants play in Sri Lankan culture. Sri Lanka's elusive leopard can be seen at many national parks, most notably Yala National Park, which has the highest population density of leopards in the world. Go to tranquil Wilpattu for a sloth bear sighting, or see toque macaque, grey langur and purple-faced leaf monkeys when you meet the monkeys of Polonnaruwa.

Don't miss:
The Elephant Gathering at Minneriya National Park (June – September)
Otters and Sambar Deer at Horton Plains National Park
Seeing a leopard at Yala National Pak
Large herds of elephants at Uda Walawe National Park
Watching sloth bear in Wilpattu National Park
Meeting the monkey population of Polonnaruwa

Marine Life
Sri Lanka's oceans also boast a wide range of spectacular creatures, including whales and dolphins, dugongs, sting rays, eels, whale sharks and five species of endangered marine turtle, as well as various colourful tropical fish and intricate, mesmerising corals. Go on a whale and dolphin watching expedition in search of the mighty blue whale, or watch as a turtle lays its eggs in the sand before returning to the sea.
Why not try a wildlife holiday in Sri Lanka? The island's astonishing diversity of landscape and the incredible range of animals that have made their home here means that there are wildlife events happening all year round. Red Dot have put together several wildlife-focused itineraries which highlight Sri Lanka's main wildlife attractions and take you to some of the most beautiful areas of the island. These itineraries can of course be altered in any way that you wish, and our knowledgeable sales consultants will be only too happy to advise you on creating the ultimate Sri Lanka wildlife holiday.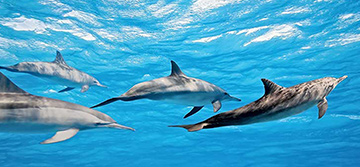 Whale Watching in Mirissa
Mirissa, South Coast
This modern catamaran complete with professional crew sets out from Mirissa Harbour at 6:30am, beating the other boats in order to have the best dolphin and whale sightings.
Duration: 4 hours
Best time: November to April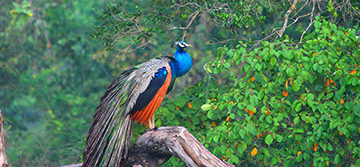 Wilpattu National Park
Wilpattu, North-West Coast
Wilpattu National Park is arguably Sri Lanka's most beautiful park. Its varying natural habitats – coastal belt, natural lakes, scrublands, open grasslands and dense forest – house numerous animals.
Duration: 3 hours
Best time: February to October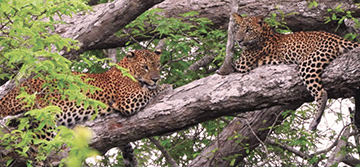 Yala National Park
Yala National Park, Yala
Yala National Park, situated in the south-east corner of the island, is home to the greatest variety of Sri Lanka's wildlife including the island's big game – elephants, leopards and sloth bears.
Duration: 3 hours
Best time: December to August
Bundala & Tissa Wetlands
Bundala, Tissa & Kataragama
Bundala & Tissa wetlands combine 20km of beach, lagoons and scrub hosting more than 150 bird species and should delight bird lovers in Sri Lanka.
Duration: 3 hours
Best time: October to March