If you are looking for an inspirational family holiday, Sri Lanka offers you everything that you need. Sri Lanka offers a gentler experience of Asia, with lots of fun but less of the culture shock. It packs so much variety into its small frame, that there is something for everybody to enjoy. Family bonds also matter here so when you travel around Sri Lanka as a family you will find the welcome warmer than ever. Whereas some parts of Asia might be an exhausting experience, Sri Lanka can fairly be regarded as Asia-lite. It possesses a proven tourist culture that will give your family – however demanding, however different - the relaxed holiday you need.
Why is Sri Lanka a great family holiday destination?
Sri Lanka offers irresistible beaches stretching over hundreds of miles, the stirring emerald peaks of the hill country - and who can forget their first sight of an elephant on one of our wildlife safaris! It is also a perfect tropical setting for a range of outdoor activities from water sports to cycling and whale-watching. Find out more by checking out our huge range of activities and experiences.

There is so much to choose from. And what's more, the country is so compact you can experience it all without your family becoming crabby and bleary-eyed because of non-stop travel.

This beautiful teardrop island knows how to have a good time, but it is free from some of the hedonistic excesses that characterise some parts of Asia. That makes your family holiday so much simpler to plan.

Sri Lanka is naturally welcoming towards children, putting them immediately at their ease. And its long-established tourist industry means it offers a huge variety of family-friendly places to stay and a global cuisine that will tempt even the choosiest palate.
Is Sri Lanka a safe destination for family holidays?
Sri Lanka is a much-loved tourist destination – 2.3 million people visited it in 2018 – and it has won countless accolades as one of the finest holiday destinations in the world.

We have always had faith in Sri Lanka. Violent crime is extremely rare. Hygiene standards are good. Tourists are warmly welcomed. But no place can be guaranteed as entirely safe and you can rely upon Red Dot to take your well-being seriously. We have always put safety at the heart of our operation.

We were quick to introduce a Covid-19 safety policy, we are in constant touch with our recommended hotels and we were the first travel company to introduce a specified Drivers' Code to emphasise the need to promote safe travel on the roads.
Why should we use Red Dot Tours for a family holiday in Sri Lanka?
Red Dot Tours has been running successful family holidays in Sri Lanka for more than 20 years. We offer a selection of popular family-orientated tours of Sri Lanka for you to take a look at for your convenience – but as we make clear we know there is no such thing as a "normal" family holiday.

Our holiday planners will ensure the travel is not too taxing for your children and our crack team of chauffeur-guides also includes many who adapt wonderfully to a family group.

We also understand that all families are different. For every hyperactive teenager who never wants to sit still, there is a quieter child who prefers a more secure or creative environment. For every white-water rafter, there is a child who might prefer to paint a face mask, take part in a puppet show or just read a book by a beautiful pool.

By trying to understand the type of family you are, we can suggest not just suitable activities and experiences but also recommended the right places to stay.
What age should our children be for a family holiday in Sri Lanka?
Any age. We see infants being transported around beautiful beaches in carry cots or snoozing delightfully in gorgeous restaurants long after sunset. And we also revel in the sight of teenagers enjoying an adrenalin rush on an Sri Lanka adventure holiday.

Sri Lanka has something for everyone. All you need is a company to help you make the right choices – at a price that suits your budget.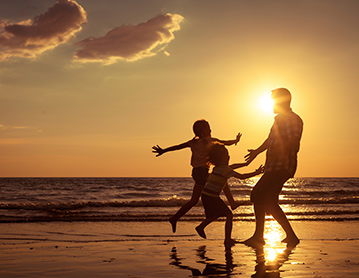 Sri Lanka East Coast for Families
Wilpattu, Pasikudah, Sigiriya, Colombo
Our family holiday of Sri Lanka's East Coast can cater for children of all ages and dispositions and ensure everybody gets the break they deserve.
(10 nights / 11 days)
Starting from USD 1276per person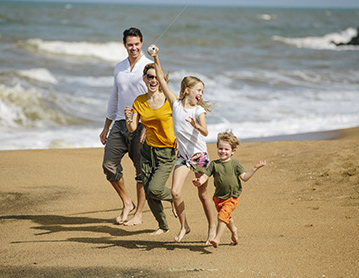 Sri Lanka Family Holiday
Habarana, Victoria, Kitulgala, Bentota
Sri Lanka Family Holiday is recommended for families with young children whose priority is to enjoy lots of fun-filled activities within a safe and friendly environment.
(13 nights / 14 days)
Starting from USD 1886per person