Sri Lankan cuisine is very distinctive, an exotic blend of tastes and aromas enriched by ethnic diversity and centuries of interaction with outside settlers. From early Arab traders to the European colonisers, Sri Lankan food has a wide range of international influences and is rich in flavour and variety. From rice and curry – a meal with a deceptively simple name that incorporates seven separate dishes, from curries to sambols – to the ever-popular string hoppers served hawker-style on the streets, something to please everyone can be found here.
Sri Lanka has long been known for its spices, which Sri Lankan people use liberally in their dishes. Visit a spice garden and see how some of them are grown and processed, including clove, cinnamon, cardamom, nutmeg, mace and pepper – and other favourites such as chocolate and vanilla.
Tea is also widely cultivated on this fertile tropical island, especially in the cool hill country but also in the lowlands. Sri Lanka has been renowned for its tea since the 19th century and is now the world's fourth largest exporter of the product. Take a tour of a tea factory and watch how the plant is processed from the leaves into this much-loved drink, or enjoy a tea tasting session with a local expert.
From bustling local markets bursting with tropical fruits and bizarre vegetables, vibrant aromatic spices and glittering fish to the delicious fresh crabs, prawns and other seafood found all along the coastline, there are many culinary delights to be seen and sampled. Your chauffeur-guide will be only too happy to help find you some tasty treats whilst you are on the road, or recommend a restaurant renowned for its excellent food.

Top Tip:
Motion sickness whilst driving? Try a stomach-settling thambili (the King Coconut, native to Sri Lanka) from the side of the road, or sip on a cold lime juice.
Foodies should look at our Flavours of Sri Lanka tour and see if it tickles their taste-buds...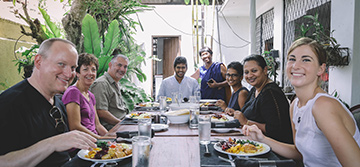 Colombo Cooking Class
Colombo
Join your experienced host at her home in the outskirts of Colombo for a fascinating morning learning to prepare a range of Sri Lankan rice dishes, curries, salads and sambols.
Duration: 1 hour
Best time: Year-round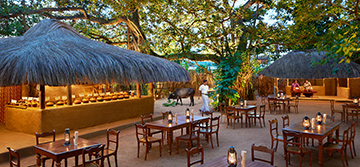 Colombo Restaurant Guide
Colombo
Explore Colombo's wide range of restaurants, cafés and street food options, which offer a wide range of traditional local dishes as well as cuisine from around the world.
Duration: N/A
Best time: Year-round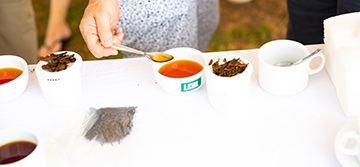 Colombo Tea Factory Tour
Colombo
Can't find time to travel to the hill country? Explore the world-renowned Ceylon tea industry during this Colombo tea factory tour, which takes you through how the leaves are picked, processed and packaged.
Duration: 3 hours
Best time: Year-round
Colombo's Street Food Walk
Colombo
Savour the local delicacies of Colombo as you weave your way through busy streets brimming with people, food, culture and stories. Be sure you've got your adventure cap on for this one.
Duration: 2 hours
Best time: Year-round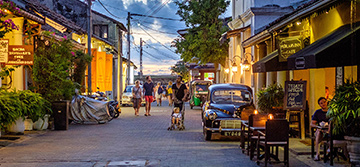 Galle Restaurant Guide
Galle, Galle Coast
Galle offers a range of charming cafes, bars and restaurants within the ancient Dutch Fort: choice ranges from simple snacks and Sri Lankan rice and curries to five-star fusion cuisine.
Duration: N/A
Best time: Year-round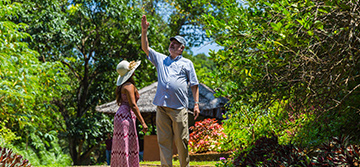 Guided Tour of a Spice Farm
Matale, Kandy
Explore a working fruit and spice farm in Matale with a local planter and learn about the various trees and crops grown here and their use in traditional Sri Lankan cuisine. End with an authentic lunch.
Duration: 3 hours
Best time: Year-round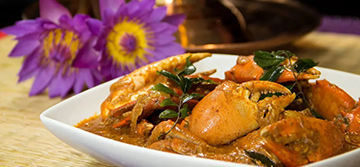 Jaffna Crab Curry Cooking Class
Jaffna
Learn how to clean fresh sea crabs and how to prepare traditional Jaffna crab curry, a dish renowned throughout the island, before sitting down to one of the best meals you will have in Sri Lanka.
Duration: 2 hours
Best time: Year-round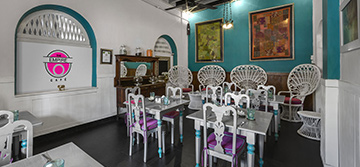 Kandy Restaurant Guide
Kandy
Kandyan cuisine has a distinct flavour. Ambul Thiyal, for example, is a popular sour fish curry. Kandyan sweet meats including Kavum, Kokis, and Pani Walalu are delicious treats not to be missed.
Duration: N/A
Best time: Year-round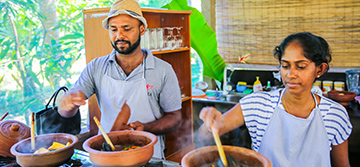 Sri Lankan Cooking Class with a Family
Galle, Galle Coast
Sensationally flavoursome rice and curry is a staple in Sri Lanka. A plate of rice and curry is comprised of various curries, cooked vegetables, sambols and steamed rice.
Duration: 3 hours
Best time: Year-round