Sri Lankan cuisine is very distinctive, an exotic blend of tastes and aromas enriched by ethnic diversity and centuries of interaction with outside settlers. From early Arab traders to the European colonisers, Sri Lankan food has a wide range of international influences and is rich in flavour and variety. From rice and curry – a meal with a deceptively simple name that incorporates seven separate dishes, from curries to sambols – to the ever-popular string hoppers served hawker-style on the streets, something to please everyone can be found here.
Sri Lanka has long been known for its spices, which Sri Lankan people use liberally in their dishes. Visit a spice garden and see how some of them are grown and processed, including clove, cinnamon, cardamom, nutmeg, mace and pepper – and other favourites such as chocolate and vanilla.
Tea is also widely cultivated on this fertile tropical island, especially in the cool hill country but also in the lowlands. Sri Lanka has been renowned for its tea since the 19th century and is now the world's fourth largest exporter of the product. Take a tour of a tea factory and watch how the plant is processed from the leaves into this much-loved drink, or enjoy a tea tasting session with a local expert.
From bustling local markets bursting with tropical fruits and bizarre vegetables, vibrant aromatic spices and glittering fish to the delicious fresh crabs, prawns and other seafood found all along the coastline, there are many culinary delights to be seen and sampled. Your chauffeur-guide will be only too happy to help find you some tasty treats whilst you are on the road, or recommend a restaurant renowned for its excellent food.

Top Tip:
Motion sickness whilst driving? Try a stomach-settling thambili (the King Coconut, native to Sri Lanka) from the side of the road, or sip on a cold lime juice.
Foodies should look at our Flavours of Sri Lanka tour and see if it tickles their taste-buds...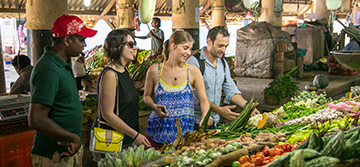 Traditional Sri Lankan Cooking Class
Galle, Galle Coast
After visiting the vibrant Galle Market, journey along the river towards a secluded rural village and learn how to make a variety of traditional Sri Lankan dishes in the cool of a wattle-and-daub hut.
Duration: 4 hours
Best time: Year-round