As Sri Lanka wins more and more accolades the message has become abundantly clear: it possesses a thriving luxury sector, most markedly in its high-end villas but also in its hotels. Luxury hotels in Sri Lanka are not about excessive opulence with diamond-studded chandeliers hanging from the ceiling, but have more to do with an understated elegance, an informality which perfectly suits those who wish to travel in style, but who know that these days style takes many enlightened forms. Welcome then to Red Dot's collection of luxury hotels in Sri lanka.
Ceylon Tea Trails Castlereagh
Hatton, Hill Country
Castlereagh, a colonial tea bungalow nestling in a wooded dell close to a lake, offers unrivalled lake views and superb garden suites. One of five wonderful tea-estate bungalows in the acclaimed Tea Trails collection in the south-west highlands.
Ceylon Tea Trails Dunkeld
Hatton, Hill Country
Dunkeld is a five-bedroom bungalow under the Ceylon Tea Trails collection located in the central highlands of Sri Lanka. It is furnished in a colonial-period style but offers all the modern amenities.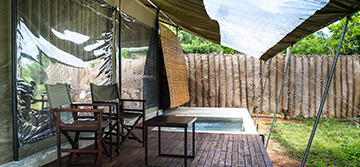 Ceylon Wild Safaris
Yala National Park, Yala
Ceylon Wild Safaris offers six comfortable tents hidden away in the buffer zone jungles of the Yala National Park about 40 minutes from the Katagamuwa entrance. A fully solar-power property with individual plunge pools.
Clingendael
Victoria, Kandy
Clingendael, a magnificent boutique manor house situated within Victoria Golf & Country Resort, exudes a stately grandeur yet is also infused with the latest in modern technology and contemporary art on the walls. Clingendael's terraced gardens, cascading waterways, verandahs and tranquil setting is ideal for relaxation.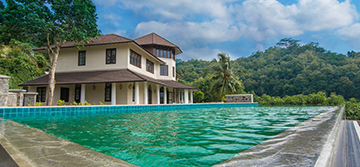 Coffee Bungalow
Kandy
The Coffee Bungalow is a refined 19C colonial manor nestled in the serene hills to the south of Kandy lake within easy reach of all the chief attractions.
Elephant Stables
Kandy
Elephant Stables is a six-room boutique villa set on a hillock looking over Kandy town and the Knuckles Mountain Range. Situated about 15 minutes away from the hustle and bustle of Kandy town, it was once the ancestral home of a Ceylonese nobleman and even afer its extensive refurbishment it gives a flavour of the region.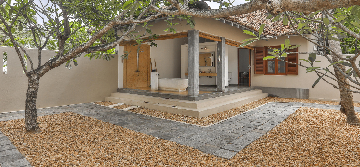 Frangipani Tree
Thalpe, Galle Coast
Frangipani Tree is a stylish boutique hotel set at the edge of a secluded beach in the upmarket settlement of Thalpe. It has ten luxurious and utterly private suites, housed in four stylish villas.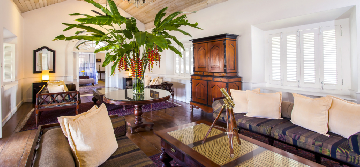 Galle Fort Hotel
Galle Fort, Galle Coast
Galle Fort Hotel evokes a subtle sense of colonial grandeur. Enter through the unassuming doors, and watch as a dramatic interior of verandas, columns and arches unfolds. Interiors are elegantly furnished in a minimalist style, blending old and new.