As Sri Lanka wins more and more accolades the message has become abundantly clear: it possesses a thriving luxury sector, most markedly in its high-end villas but also in its hotels. Luxury hotels in Sri Lanka are not about excessive opulence with diamond-studded chandeliers hanging from the ceiling, but have more to do with an understated elegance, an informality which perfectly suits those who wish to travel in style, but who know that these days style takes many enlightened forms. Welcome then to Red Dot's collection of luxury hotels in Sri lanka.
Residence by Uga Escapes
Colombo
The Residence by Uga Escapes is a most attractive alternative to Colombo's five-star hotels, a charming manor house built over 200 years ago. Managed by Uga Escapes, owners of Ulagalla, Jungle Beach and Uga Bay.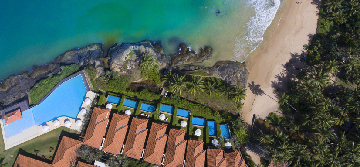 Saman Villas
Bentota, West Coast
Saman Villas, one of the most sought-after small hotels in Sri Lanka, is perched on a rocky headland in Bentota. This exquisite 26-room hotel seeks to pamper its guests without becoming intrusive. Children under 12 are discouraged to protect its peaceful atmosphere.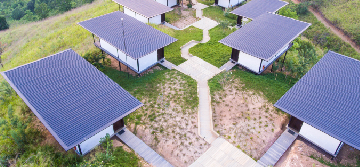 Santani Wellness Resort & Spa
Digana, Kandy
Offering 18 rooms in the verdant mountains in Digana, Santani Wellness Resort & Spa specialises in Ayurveda treatments and is a great place to relax and connect with nature.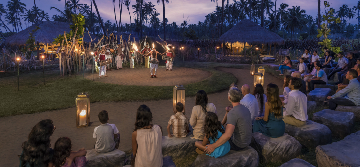 Shangri - La Hambantota Golf Resort & Spa
Hambantota, South Coast
Shangri-La's Hambantota Golf Resort & Spa is the only golf resort in Sri Lanka and offers 300 bedrooms sprawled across 53 acres and a host of activities as well as a full 18 holes for the avid golfer. Overlooking the azure blue coast, this expansive hotel with a renowned brand name will appeal to active holidaymakers seeking upmarket quality.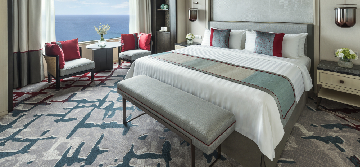 Shangri La Colombo
Colombo
The second Sri Lanka hotel of global franchise, Shangri-La Hotels and Resorts, Shangri-La Colombo offers accommodation in 500 rooms and 41 furnished apartments across 32 floors overlooking the Indian Ocean. The hotel's city centre location provides easy access to many places of cultural and historical interest, shopping complexes and restaurants.
Somaland Estate
Gampola, Kandy
Somaland Estate is a charming old colonial four-bedroom bungalow 45 minutes away from the town of Kandy. Influenced by southern architecture, this is the perfect accommodation in which to enjoy the cool climate Kandy offers.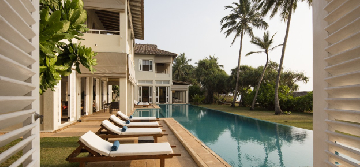 Sri Villas
Induruwa, West Coast
Sri Villas' three charming villas – Araliya, Nisala and Sagara - sit on a secluded stretch of coastline in Induruwa on the West Coast. The villas offer refined luxury and is popular with couples and small families wanting stylish accommodation with direct sea views on a safe swimming beach.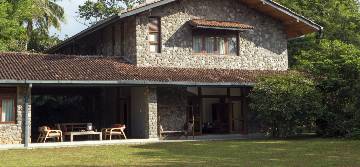 Stone House
Kandy
Stone House is a luxurious boutique villa immersed in nature with stunning mountain views. Located 15 minutes outside of Kandy, this accommodation provides peace and privacy whilst remaining within easy distance of the ancient cultural sites of the city.
Stonyhurst
Nuwara Eliya, Hill Country
Stonyhurst is an exquisite stone cottage situated down a secluded, leafy by-road in Nuwara Eliya, near the golf club. Set on a manicured lawn with flowering hedges, it has six bedrooms and warm and welcoming interiors.